You've decided on a Fitbit, but that's not the end of it. There are a selection of accessories and bands you can buy to pimp up your new fitness tracker.
Whether you've gone for the Ionic, Flex 2 or Alta HR, we all want something that feels a bit more personal, especially after dropping the sort of money most wearables cost.
Or perhaps you want something that gives you new ways to wear your Fitbit or that fixes common problems; whichever way you slice it we've had a good scout and dug up the best Fitbit accessories and bands we can find for each product.
Select your Fitbit from the list below and you'll find some of the best bands and accessories for each.
Note: we've ranked these from cheapest to most expensive according to prices at time of writing. We have not used every band or accessory on this list, but instead found a selection of options we think may suit your Fitbit wearable.
Do you own Fitbit's first ever smartwatch? If you've got a Fitbit Ionic we've put together some of the best bands and accessories you can use alongside the smartwatch.
If you want to keep your shiny new Fitbit Ionic looking both shiny and new for a bit longer, these screen protectors will help prevent scuffs and scratches and they're touchscreen compatible so won't affect your watch's functionality.
However, while they claim to be bubble-proof, you do need to spend a bit of time applying them to ensure you don't get any annoying blisters. (And we don't mean on your fingers).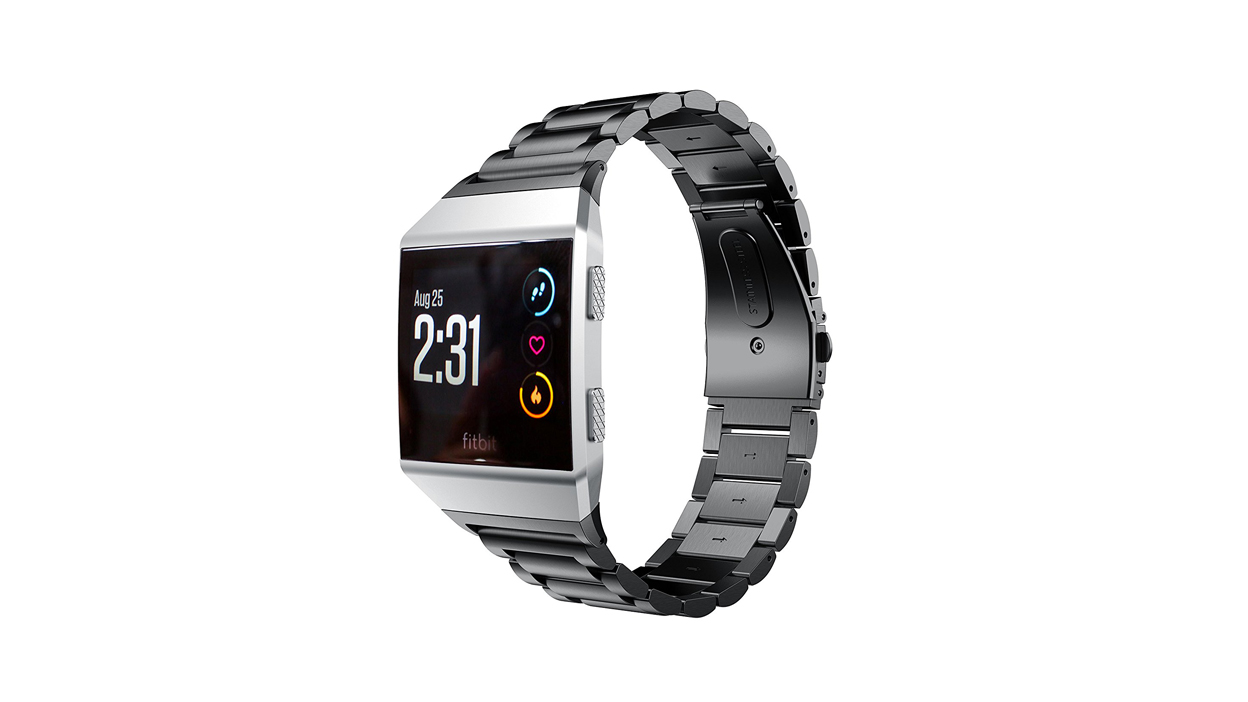 If you prefer a metal watch strap to the soft silicone the Ionic comes with then there are quite a few out there to choose from.
We like the matte black of this stainless steel version but there's also a silver, rose gold and some sparkly options if you like your fitness smartwatch with added bling. Sizing is sorted too, the strap comes with a tool that allows you to remove links to ensure a good fit.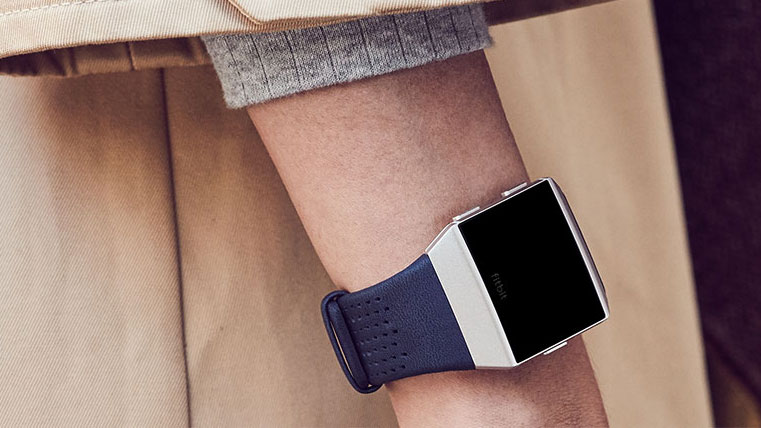 This is made of Horween leather – a tannery based in the US and has been around for over 100 years – and feels comfortable to wear on your wrist. It can be a little stiff to start with, but once you've worn it for a little while it should sit comfortably around your wrist.
You can buy it in either brown or a very dark blue color, but neither of these options are particularly cheap and these are some of the most high-end straps for any Fitbit wearable.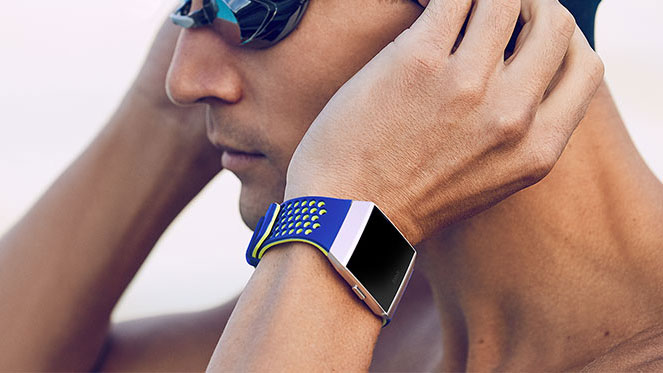 Planning to work out with your Fitbit Ionic a lot? Of course you are. That may mean you want to buy the Sport band from Fitbit that will allow your skin to breath more than the Classic or Leather bands do.
You can buy it in the tepid looking black and grey or there's the bold combination of bright yellow and blue that you can see in the image above. You probably won't want to wear this to a formal dinner…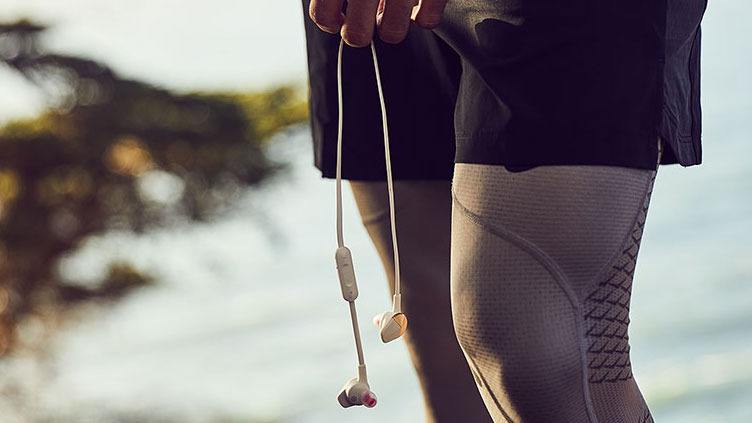 We're planning to try out the Fitbit Flyer headphones very soon, but if you want to have the officially produced headphones specifically for the Ionic you can buy them already.
Fitbit claims the headphones are sweatproof, which should make them comfortable to wear during workouts. If you're looking for a pair of Bluetooth headsets we can definitely recommend, be sure to check out our full guide of the best running headphones right now.
Looking for a different Fitbit?
This page offers a selection of the best bands and accessories we've spotted for the Fitbit Charge 2. Below you'll mostly find Fitbit Charge 2 bands, but that's because there are so many great options for one of Fitbit's most popular trackers.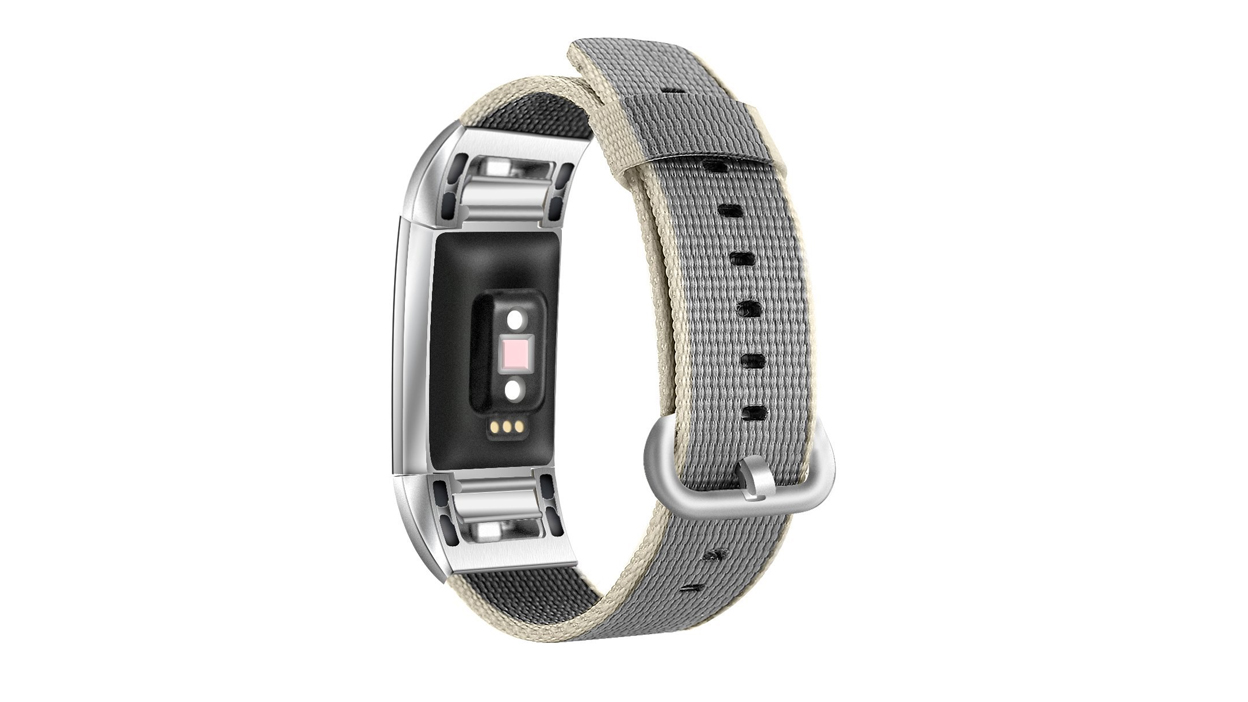 If you're irritated by silicone or steel straps, this woven nylon band is one of the cheapest bands we've seen. It's available in large and small sizes and has a buckle, meaning it should be easy to get a good fit.
With some of the cheaper bands, however, it's definitely worth checking your Fitbit is firmly locked in place before wearing.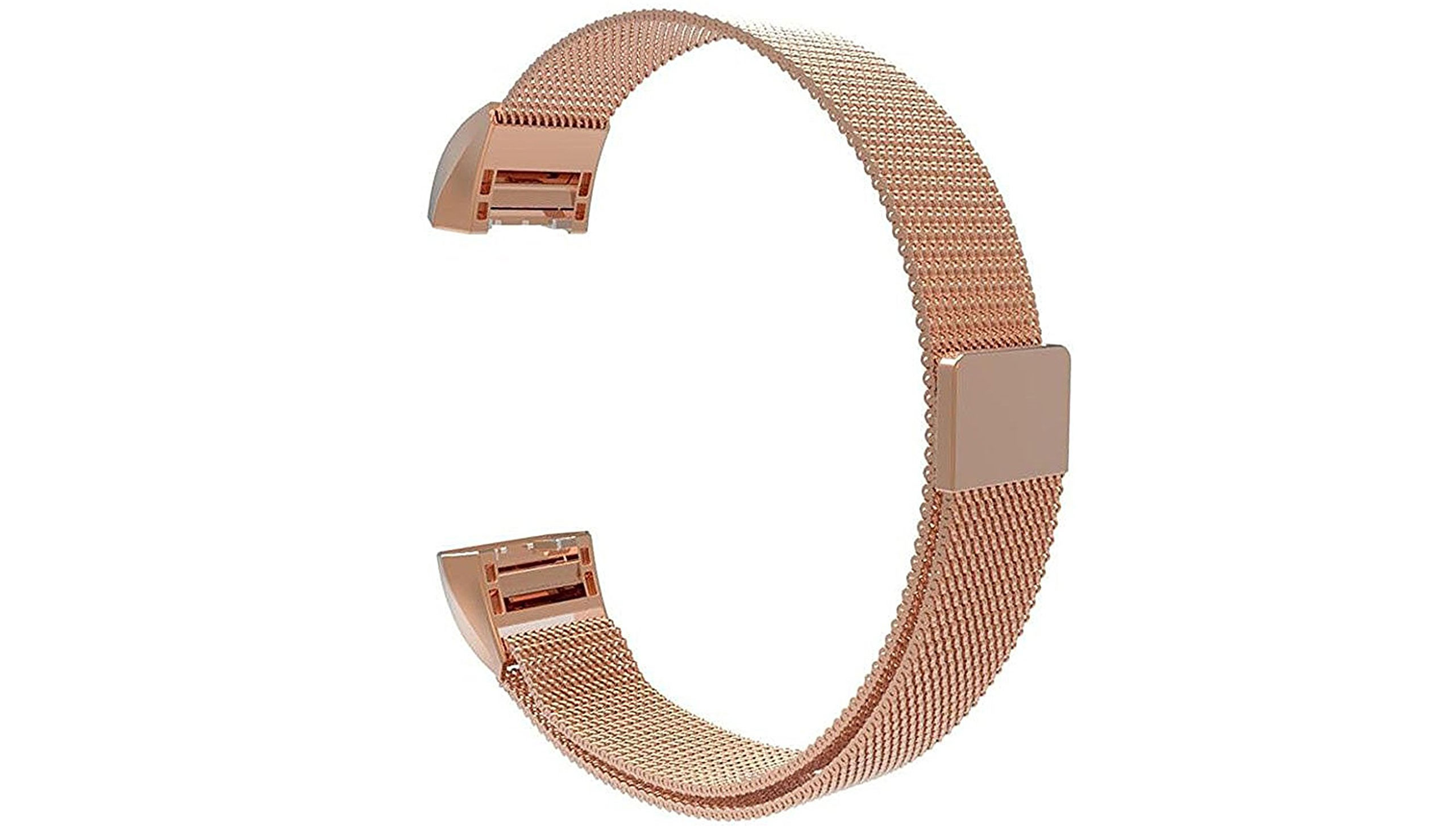 After another cheap bracelet for the Fitbit Charge 2? This metal option will feel good on your wrist and look stylish at the same time.
This probably isn't what you want to wear when you're exercising, but it may be a good option if you're looking for a cheap strap that also offers a formal look.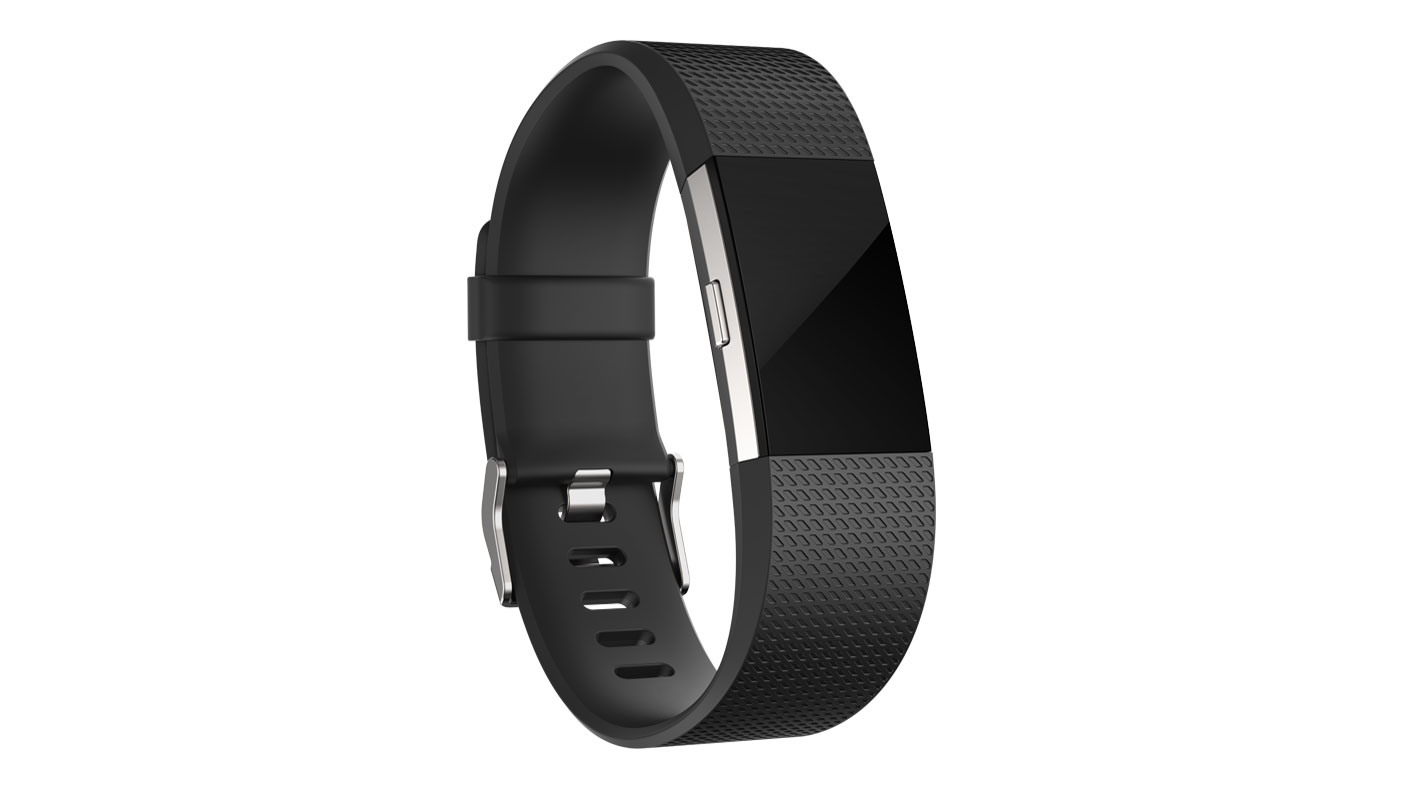 This is the official Classic band from Fitbit that you'll likely want to buy for your Charge 2. It's made of silicone and comes in a variety of different colors.
It's not as expensive as the premium bands you can buy for your Charge 2 and we particularly like the silicone material while exercising.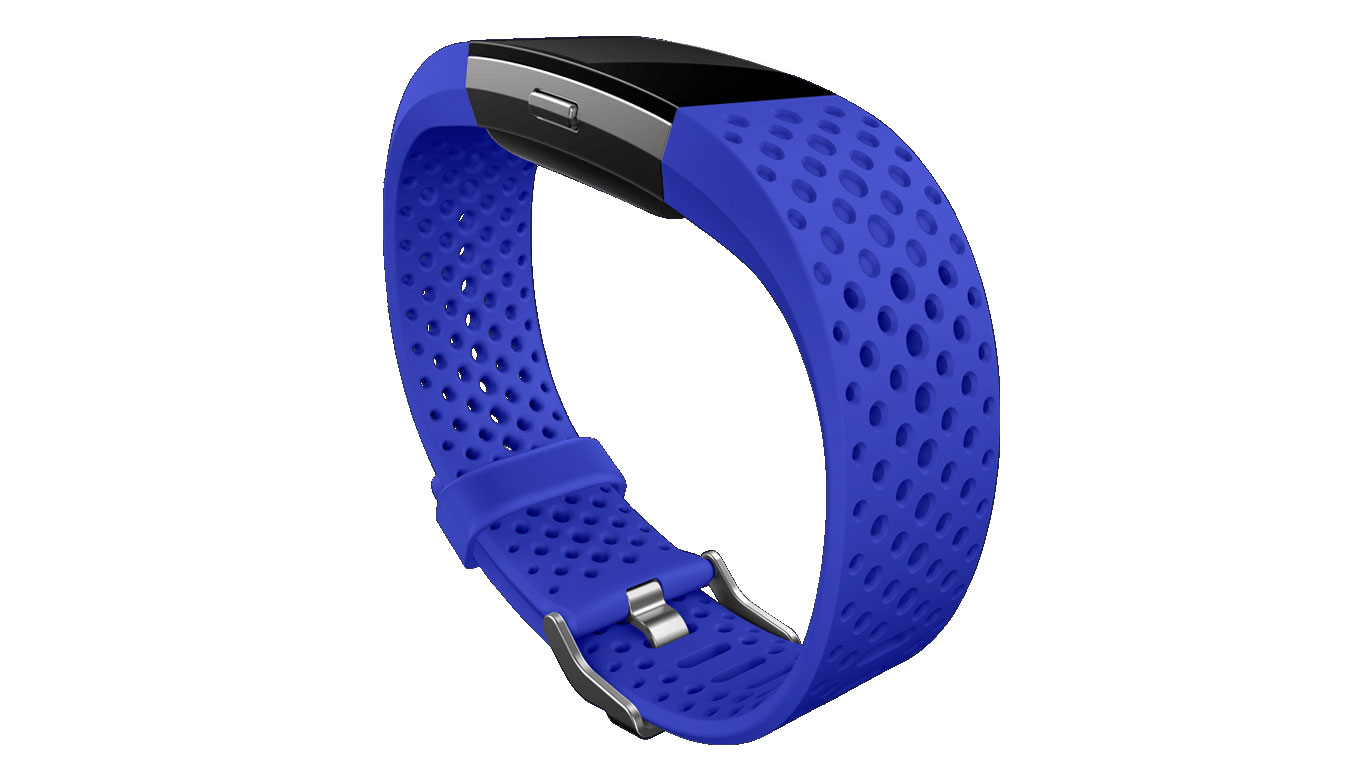 If you're wearing a Fitbit Charge 2 for exercise, this is probably the best band for you to buy on this list. The Sport Band from Fitbit is the most comfortable to wear while exercising and will suit you well if you plan to get sweaty regularly.
You can buy it directly from Fitbit in either blue, pink or black.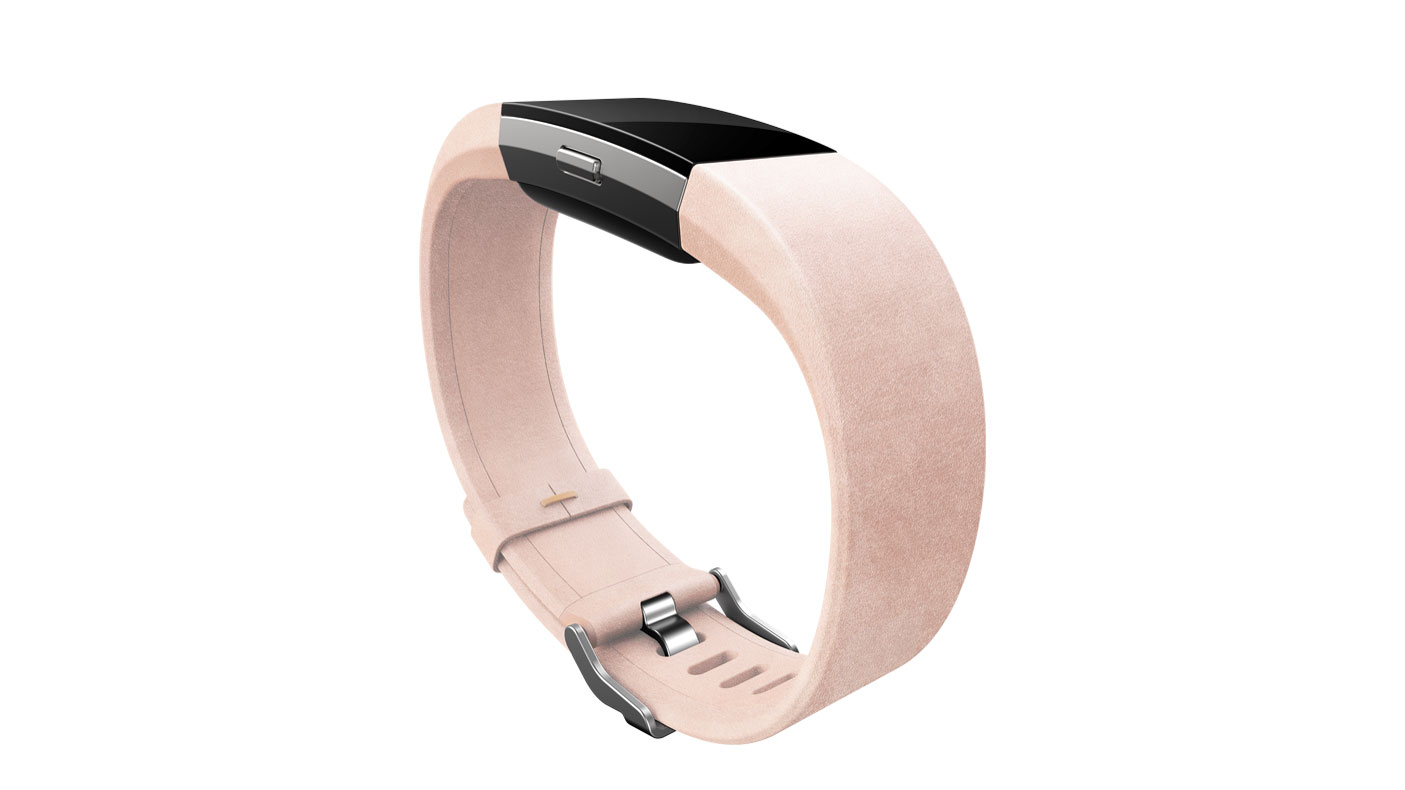 Want something with a more premium look for your Fitbit Charge 2? We like this official leather band from Fitbit that gives you a great formal look for when you need to dress up a little.
You won't want to exercise in this version though, so you may want to buy a silicone band (listed above) too.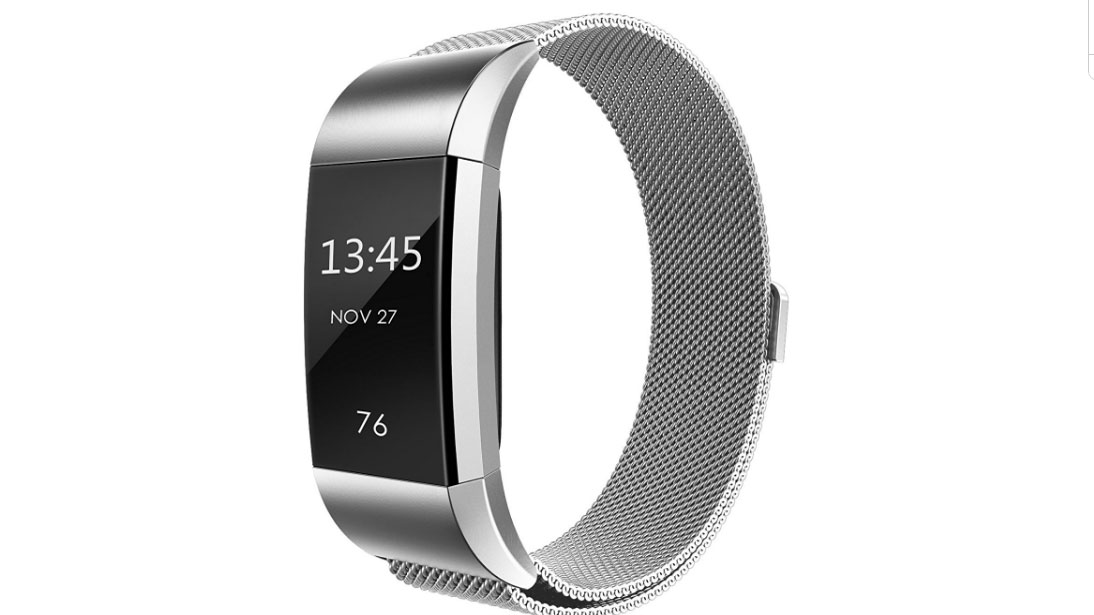 This stainless steel strap will give you a more fashionable look on your wrist than the strap that comes with the Fitbit Charge 2. This is a cheap alternative as well and will cost you a lot less than the leather option elsewhere in this list.
Go for a milanese loop band if you're after a great new look for your Fitbit Charge 2.
Looking for a different Fitbit?
So you've chosen either the Fitbit Alta HR or the Fitbit Alta – here are our favorite accessories for your tracker, including a selection of bands and extra add-ons you might want to buy.
You should note that some of the accessories on this list may not work with the newer Fitbit Alta HR, but we've also clearly stated which ones we are certain to work with your newer tracker.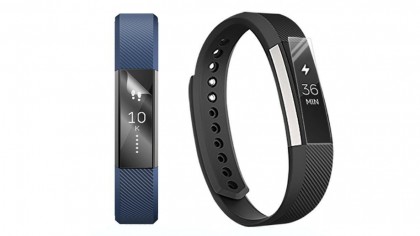 The screen on your Fitbit Alta/Alta HR can easily get damaged, so we'd recommend you take a look at getting a display protector for your wearable.
These are cheap and should mean you won't scratch up the display when you put the Alta down or if you bump your wrist into anything.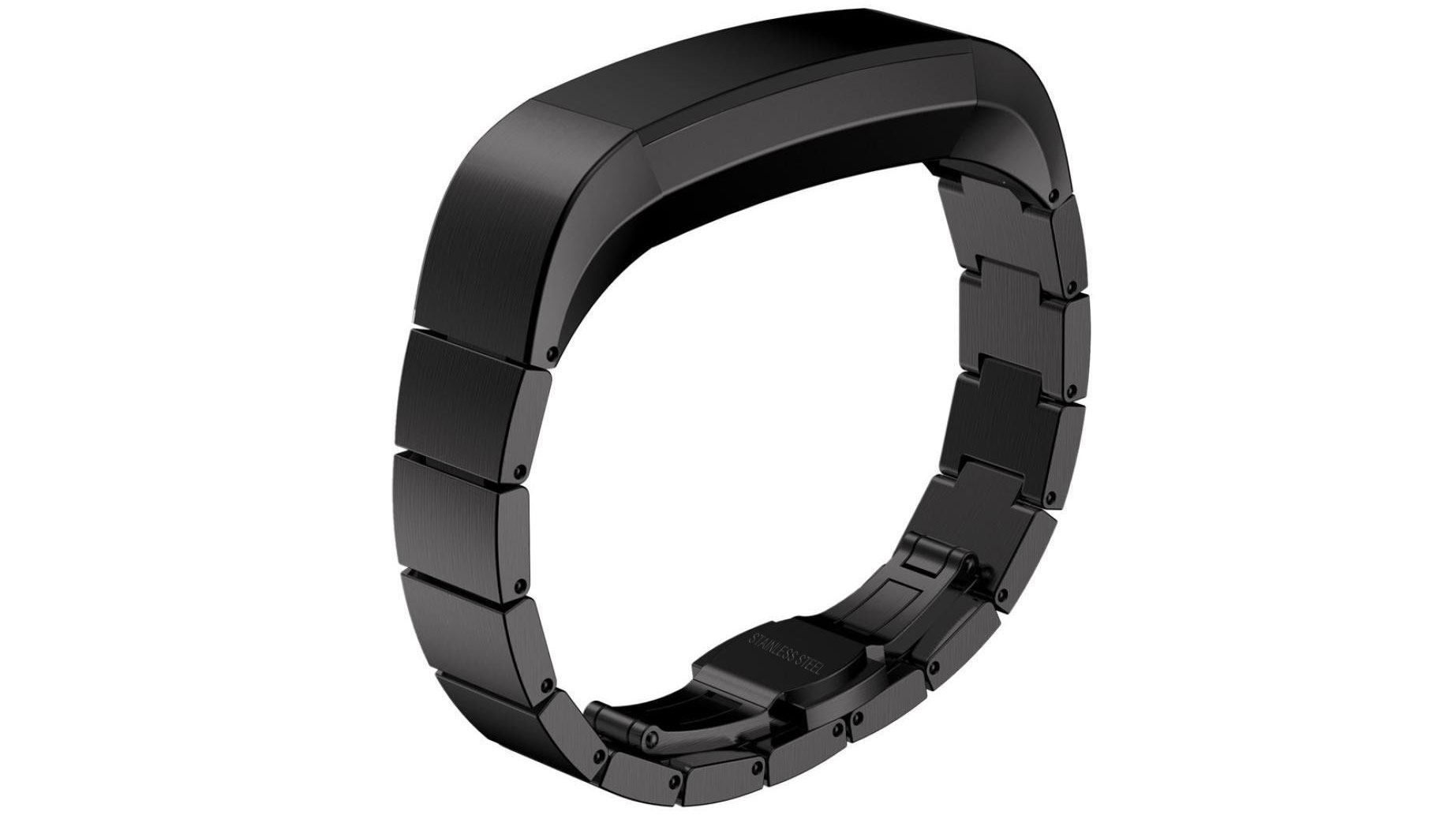 Want your Fitbit Alta in a metal band? Here's one of the best cheap options we could find that will work on your Fitbit Alta.
It's made of stainless steel and comes with a link remover tool in the box, so you should simply be able to swap it out and make sure the metal strap fits your wrist properly. Whether this band will work with the Fitbit Alta HR is uncertain.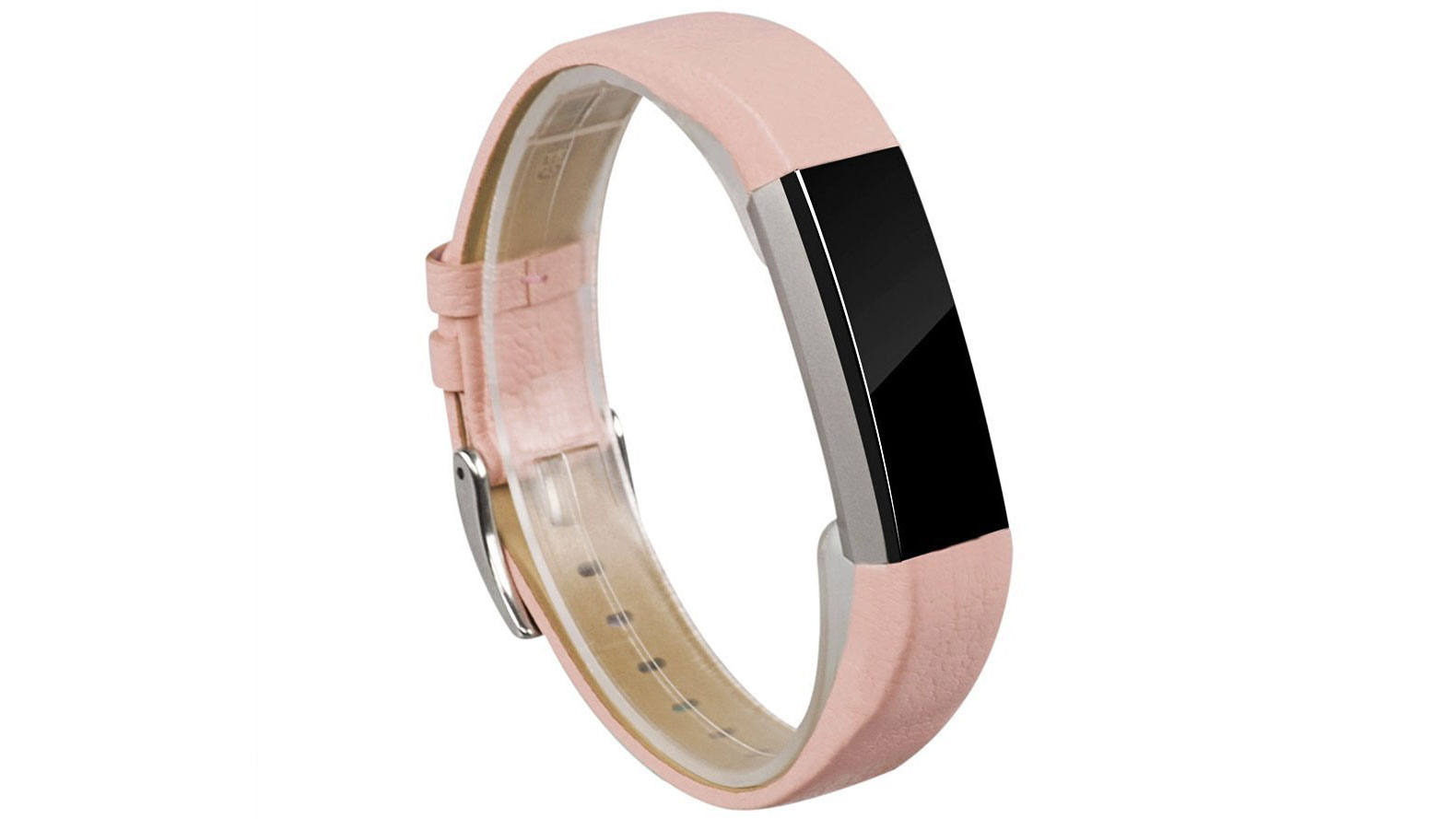 Here's the cheapest leather band we can find for the Fitbit Alta, and it should give you a more stylish look than the silicone option included in the box.
It's not as premium as the leather option supplied by Fitbit, but then it doesn't cost anywhere near as much either. There's no certainty this will work with the Fitbit Alta HR though as Wearlizer hasn't updated its listing yet.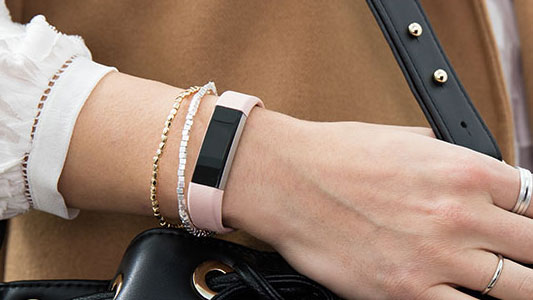 Metal not your thing? If you're after a classier look for your Fitbit Alta or Alta HR, this is the option to go for over the silicone or third-party metal bands.
There are three color options to go for – grey, brown or pink – plus it looks comfortable and should look good when in an office setting or on a night out.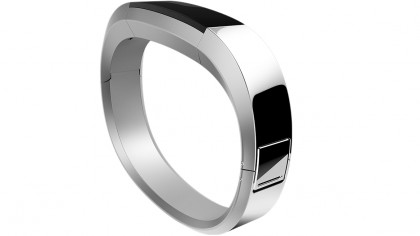 The Fitbit Alta and Alta HR both come with a fairly plain yet functional strap, but if you've got money to spare you can upgrade it to a far more stylish and premium one like this metal offering.
It's made from stainless steel and looks far more like something that you'd wear by choice than just as a means to track your fitness.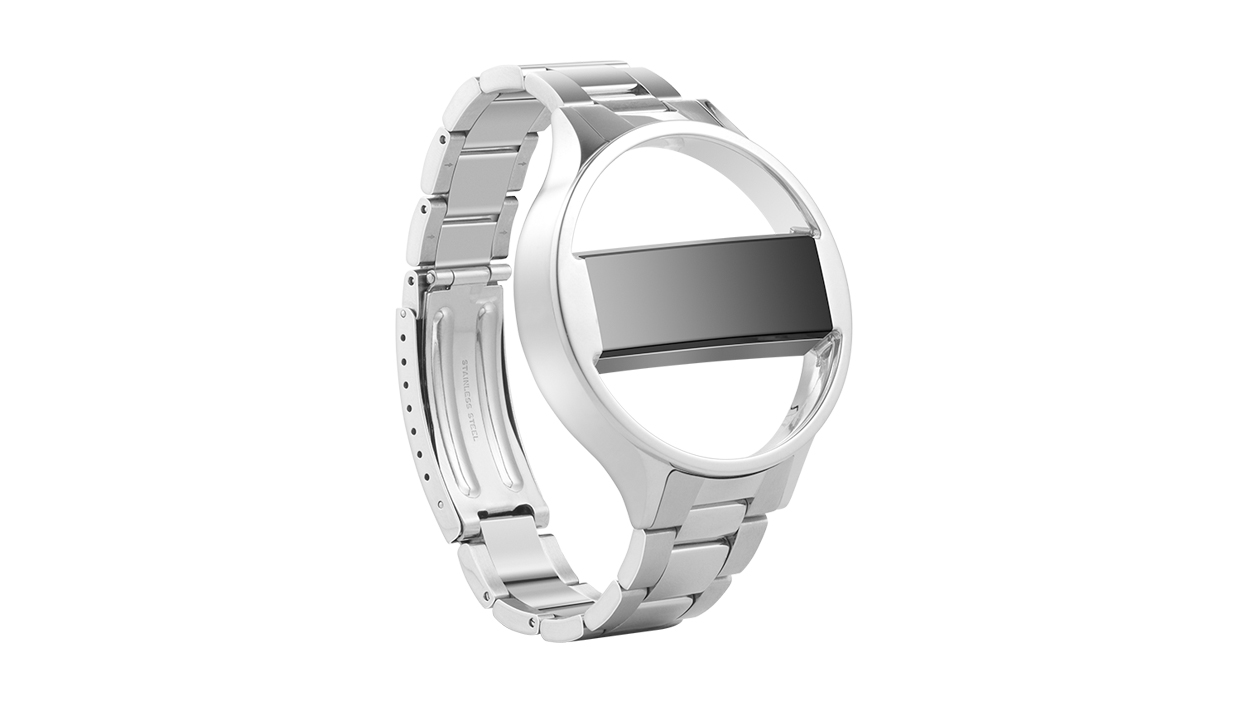 A collaboration with US designers Public School, this bracelet can be bought directly from Fitbit – always good for peace of mind when buying expensive products.
Turning the fitness tracker into a fashion watch, it's made from surgical grade stainless steel but while it looks great, it isn't sweat proof so not one to use in the gym.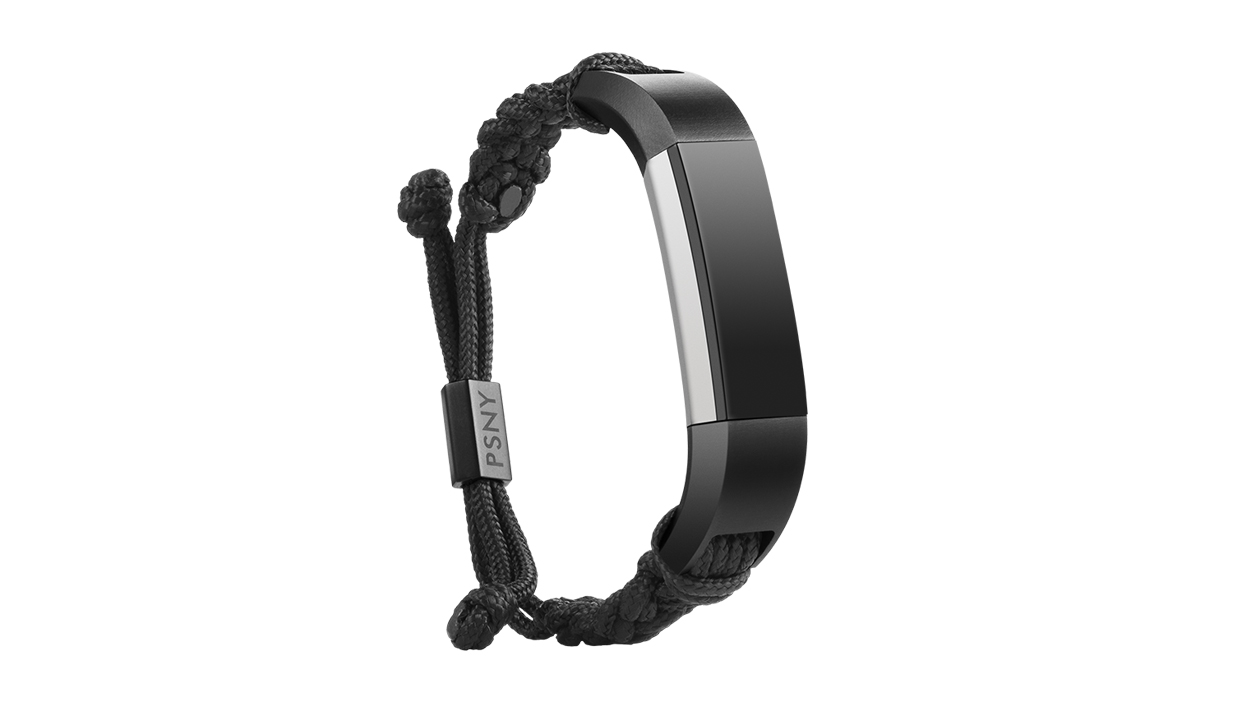 The second design from Public School is military-inspired with gunmetal stainless steel hardware.
This is a band that's more about the looks than function, as it's not water proof or suited to intense workouts. It's fine for day to day walks though. But watch out, as with most loose-fitting accessories, if you have an Alta HR, the heart rate monitoring may not work.
Looking for a different Fitbit?
Do you own Fitbit's first smart fitness watch? Here are a selection of the best Fitbit Blaze bands you can buy right now.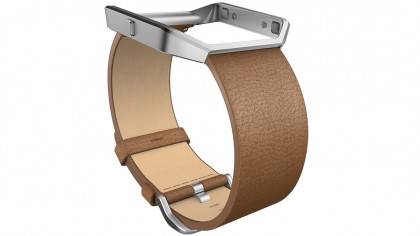 There isn't the same range of accessories for the Fitbit Blaze as there is for something like the Fitbit Flex, but there are still some compelling choices, especially when it comes to straps.
Out of the box you get a fairly sporty elastomer band, which looks good in the gym but not in the bar. If you want to keep wearing the Blaze all day you might want to consider a more formal band, like this leather number which comes in Black, Camel or Mist Gray.
It gives the wearable the look of a normal wristwatch, albeit a chunky one – but you will need to get good at clipping those bands in and out.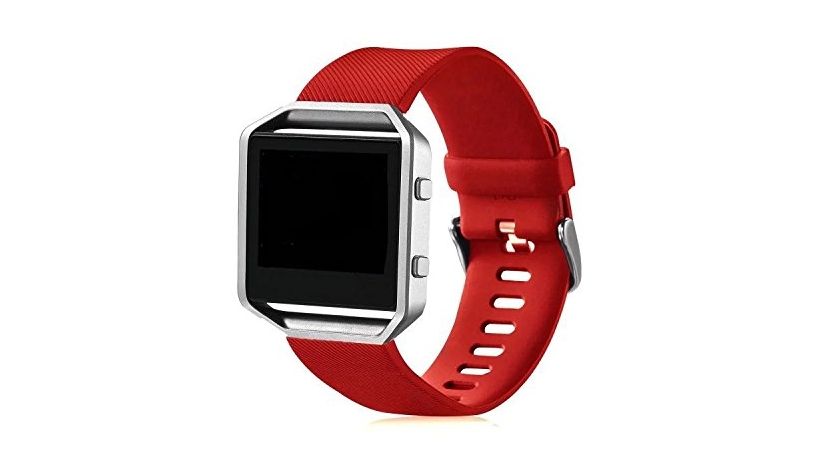 You probably won't want this as your main Fitbit Blaze band, as the silicone material looks a bit cheap, but then it is cheap, so it could make for a handy spare, or one to use at the gym, while swapping it out for one of the classier entries on this list when not working out.
The Wearlizer Silicone Classic Band also comes in a huge range of colors, so whether you're more into an understated dark blue or a flashy hot pink it's got you covered.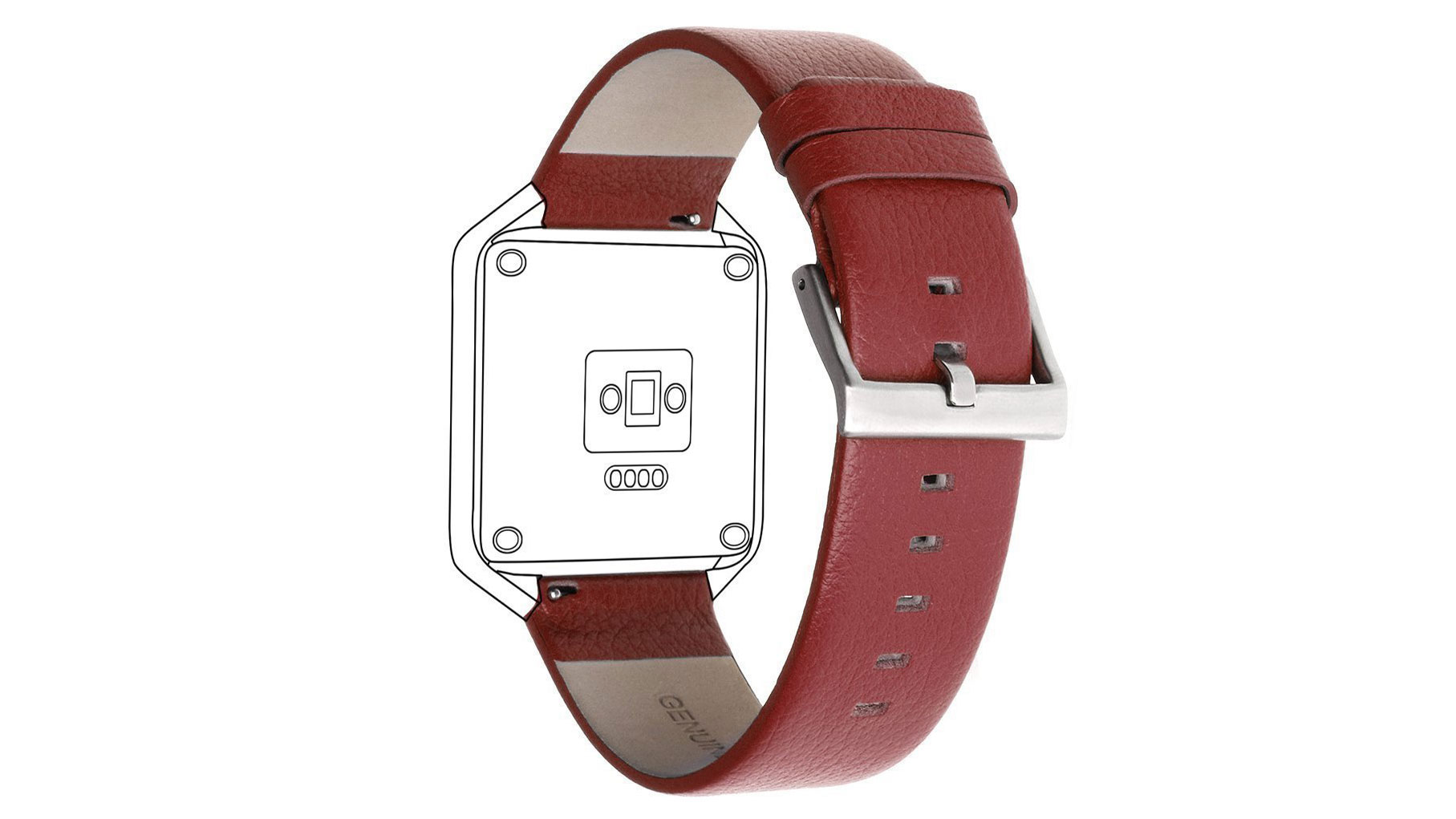 Fancy a good looking band so you can wear your Fitbit Blaze to a big meeting at work? This may be the best choice for you if you don't want to spend much money.
This is the cheapest leather band we can find for the Fitbit Blaze. There are some other leather options down below in this list – including one directly from Fitbit – but if your main concern is saving money, this is a great buy.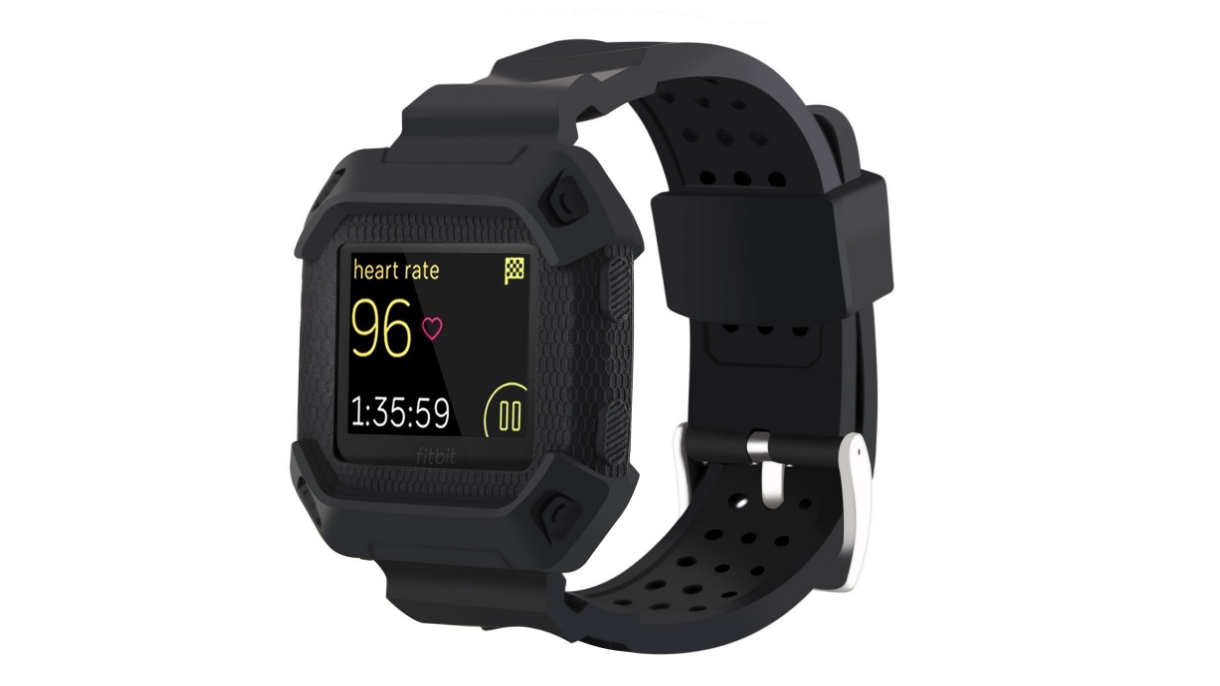 This rugged case from Greatfine is overkill for most situations, but if you're a fan of extreme sports, or just unusually clumsy, it could be a life (or at least watch) saver.
The chunky frame provides a large lip over the screen, so you can lie your watch flat without the display coming into contact with anything, and the strap is shock resistant, so your Blaze is more likely to come out of a tumble in one piece.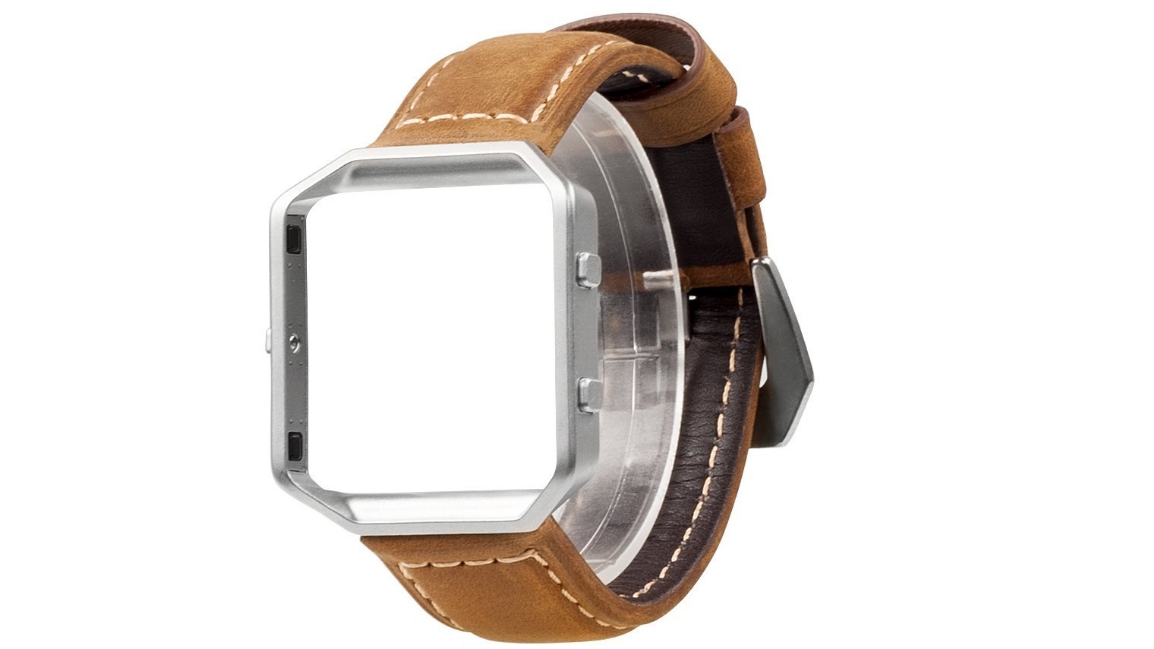 The official leather band for the Fitbit Blaze is also quite pricey, and while we wouldn't exactly call the Wearlizer Crazy Horse strap cheap, it's substantially less expensive.
But that's not the only reason to opt for it, as the Wearlizer band is also a distinctly different style to the official one, with white stitching complementing the black or brown leather. It gives the strap an altogether more casual, playful look.
Looking for a different Fitbit?
If you own a Fitbit Flex 2, we've put together a selection of the best accessories and bands for your wearable.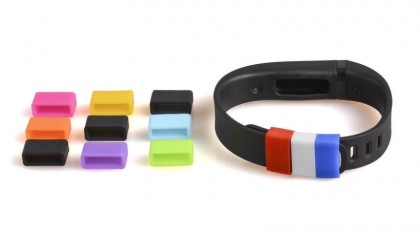 Perhaps you're happy to stick with the basic rubber wristband of the Fitbit Flex – after all, it is a fitness tracker, and the rubber strap is workout-ready.
But the latch can more easily come undone than some trackers, and if you're out on a jog you may end up travelling a significant distance before you realize you've lost it.
You can avoid these woes with a set of Friendly Swede Silicone Fasteners, which you simply slide over the clasp to keep it in place. You only need one to keep your Flex secure, but you get twelve in a pack, sporting a range of different colors, so you can use extras to add a bit of flair to your wrist.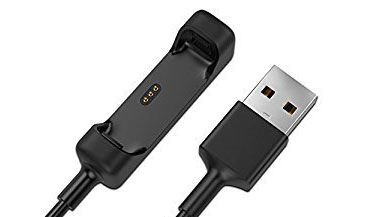 Find yourself misplacing your Fitbit Flex 2 charger a lot? Why not have two?
It's always useful to have multiple options, and buying one of these will let you permanently store a charging dock at both work and home, or give you one to throw in your bag for when it needs charging on the go.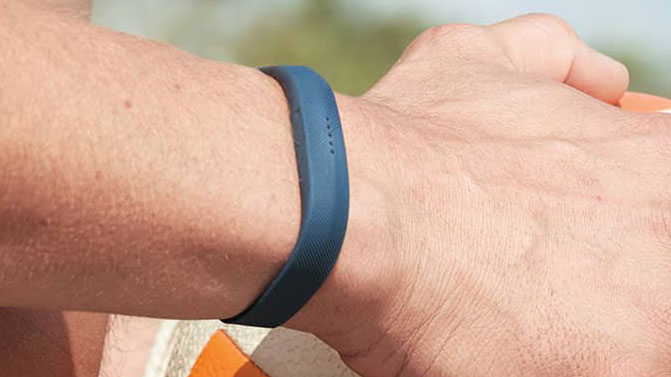 The silicone band you likely bought for your Fitbit Flex 2 also comes in a variety of other colors.
These are sold separately, so if you buy a few extras you'll be able to have a selection of different colors for different occasions. There are lots to choose from and they're not expensive at all.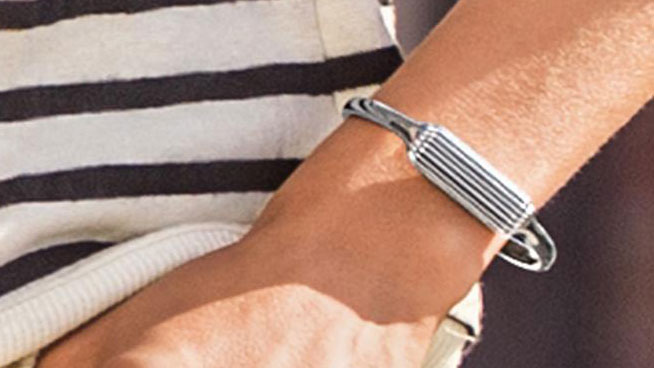 If you want a more formal look for when you go to weddings or even just on a night out, Fitbit offers this beautiful bangle that will give your Flex 2 an entirely different look to what you're used to.
It comes in stainless steel, 22k rose gold or 22k gold depending on how much money you're prepared to spend on it.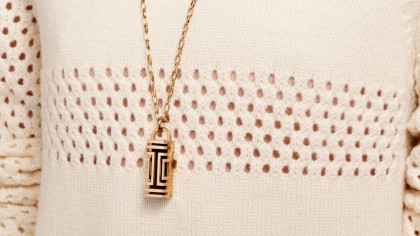 Fitbits, like most fitness trackers, are typically worn on your wrist, but there's no reason why some, such as the Fitbit Flex, can't be worn around your neck in a pendant.
That thought led to the creation of this Metal Fret Pendant by designer Tory Burch. Not only does it give you a new way to wear your Fitbit Flex, but the metal enclosure is premium, stylish and hides your Fitbit away enough that it can be used as a genuine fashion accessory.
Yet it still leaves your Fitbit fully functional and the gaps in the metal mean you can still view your progress with a double tap of the pendant.
Looking for a different Fitbit?
The Fitbit Surge is the best Fitbit device for runners, but accessories and bands to buy alongside your wearable are limited. Here are some of our favorites.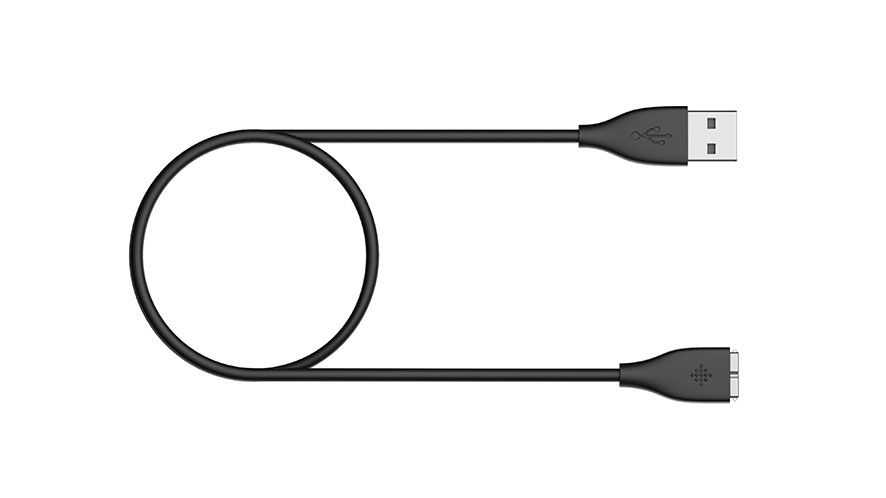 As we've said, the Surge accessories market is limited at the moment so we've included a new charging cable for your Fitbit.
You may find this useful if you've misplaced your charger or you want another one to put in your bag while you're on the go.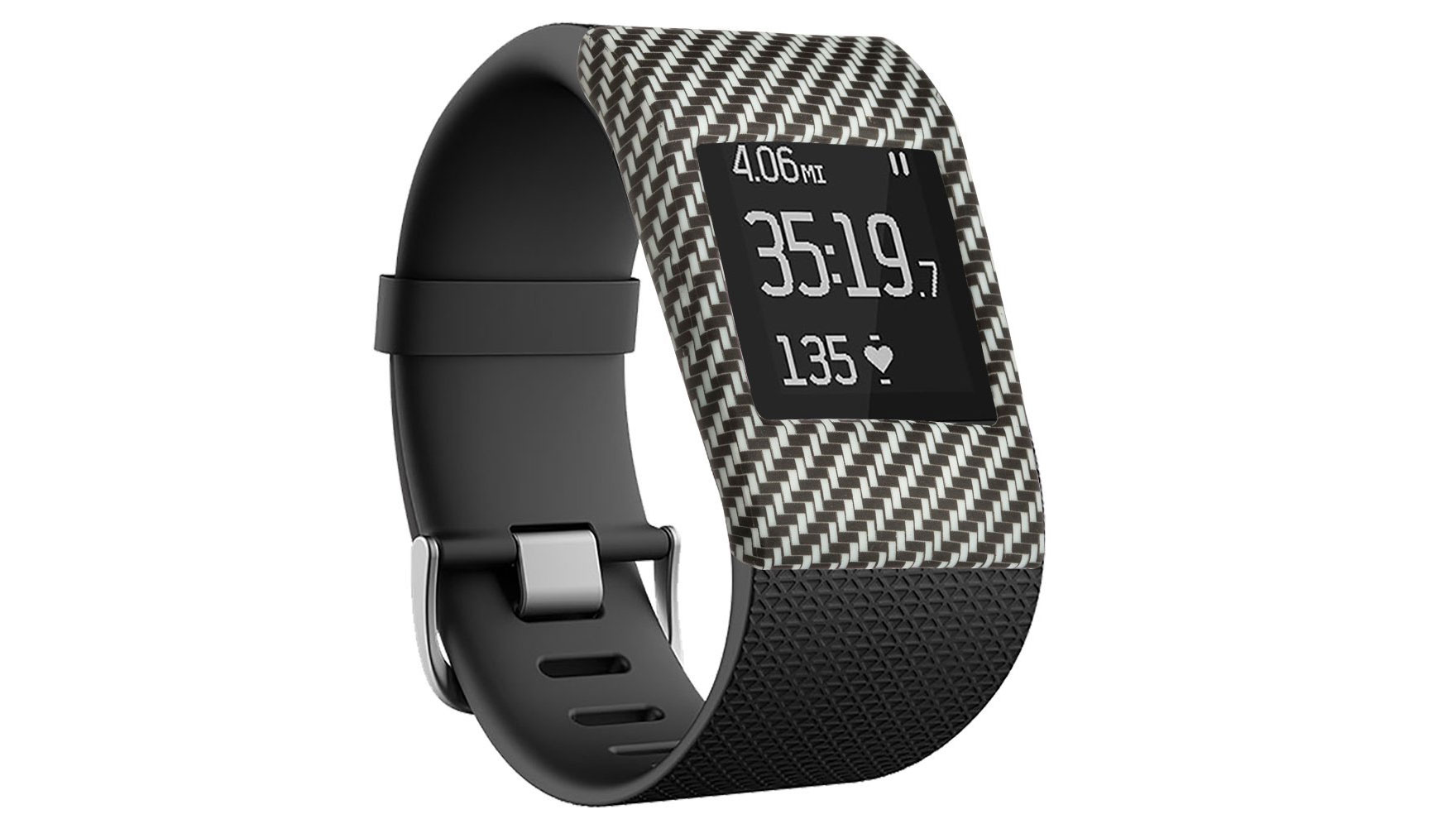 Here's a cover for your Fitbit Surge that can make it a lot more exciting than most of the boring bands you can get for your tracker. There are options such as zebra print or even flowers to personalize the look of your Fitbit Surge.
Buy this if you want something that looks different to everyone else's Fitbit band.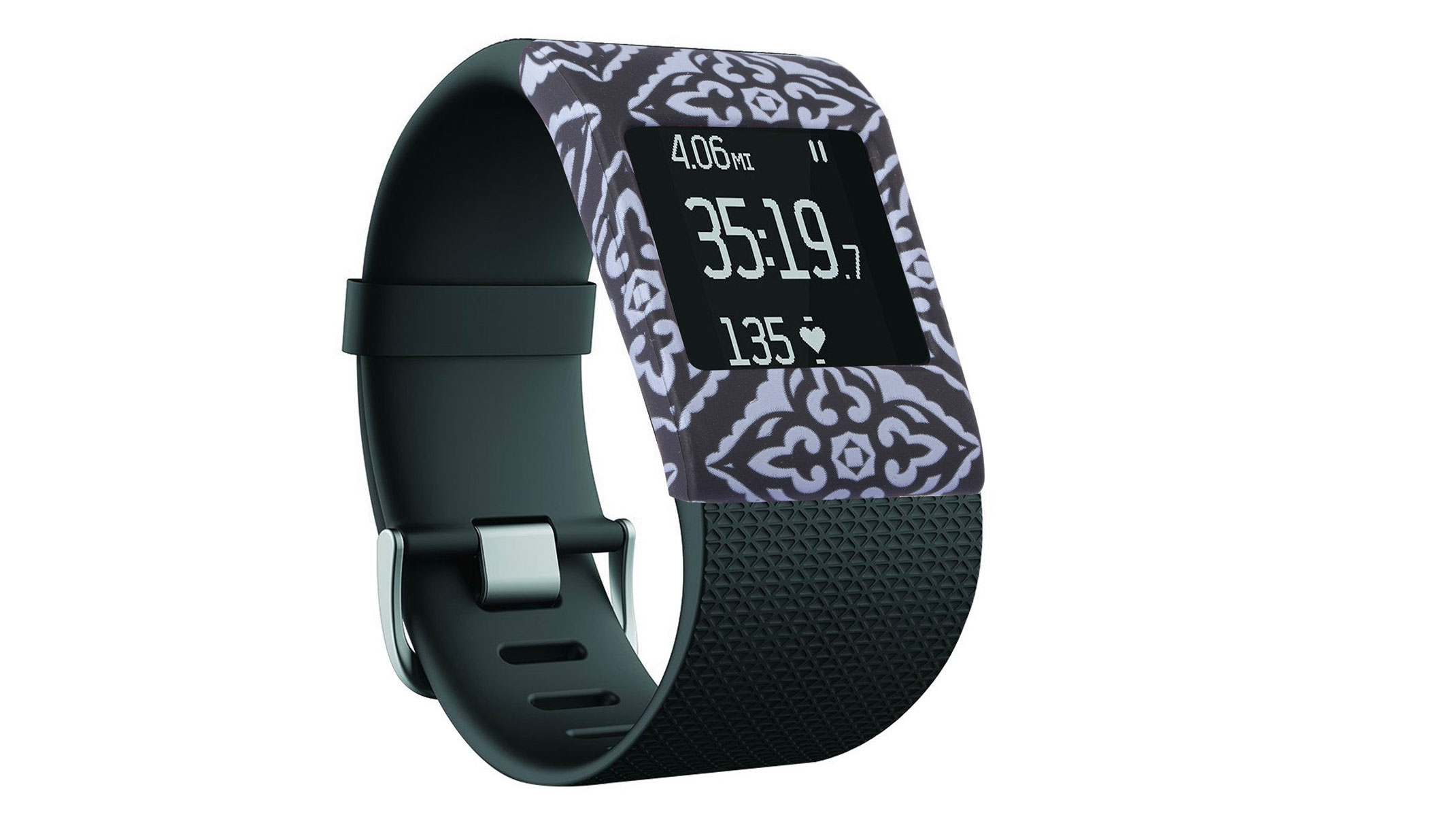 Here's another protector for your strap, which is all the more vital as Fitbit isn't selling replacement bands for the Fitbit Surge anymore.
Instead you'll need to take the best care of your original Fitbit Surge strap to make sure it stays in one piece.
But as well as offering protection this adds a stylish finish to your Fitbit Surge, helping you stand out from the fitness tracking crowd.
Looking for a different Fitbit?
Still rocking the original Fitbit Flex? Then you'll want to check out this selection of bands.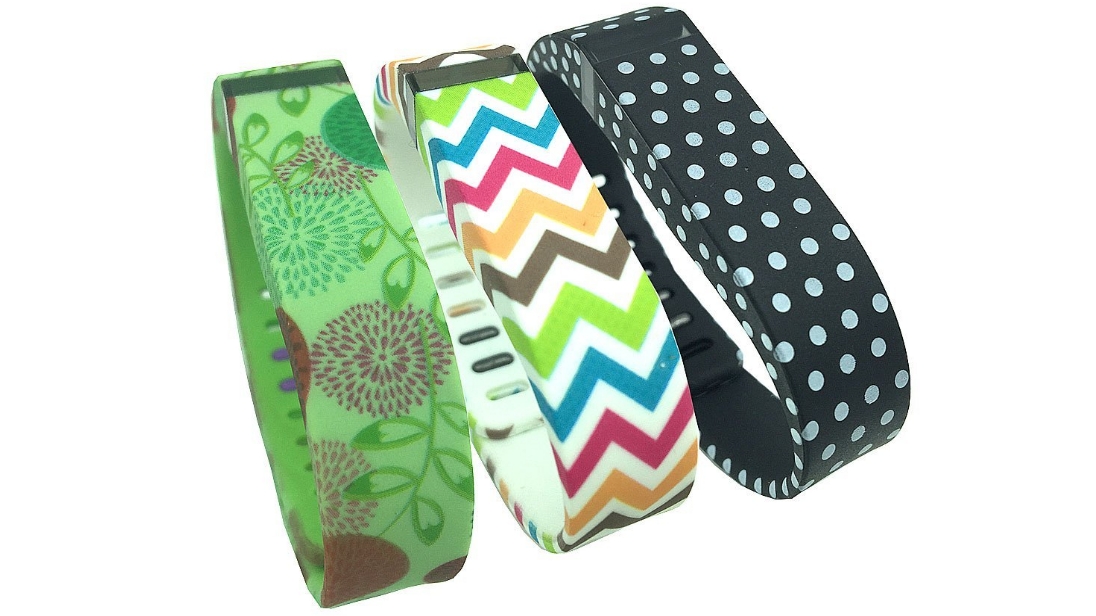 Like the Hotodeal wristband, this strap from HopCentury also comes in a wide range of colors and looks, but the strap design is more conventional.
It's affordable, fits a large range of wrist sizes and adds some color to your Fitbit Flex. It's more rigid than Fitbit's official bands and a bit chunky, but if you want a cheap, eye-catching strap, this is it.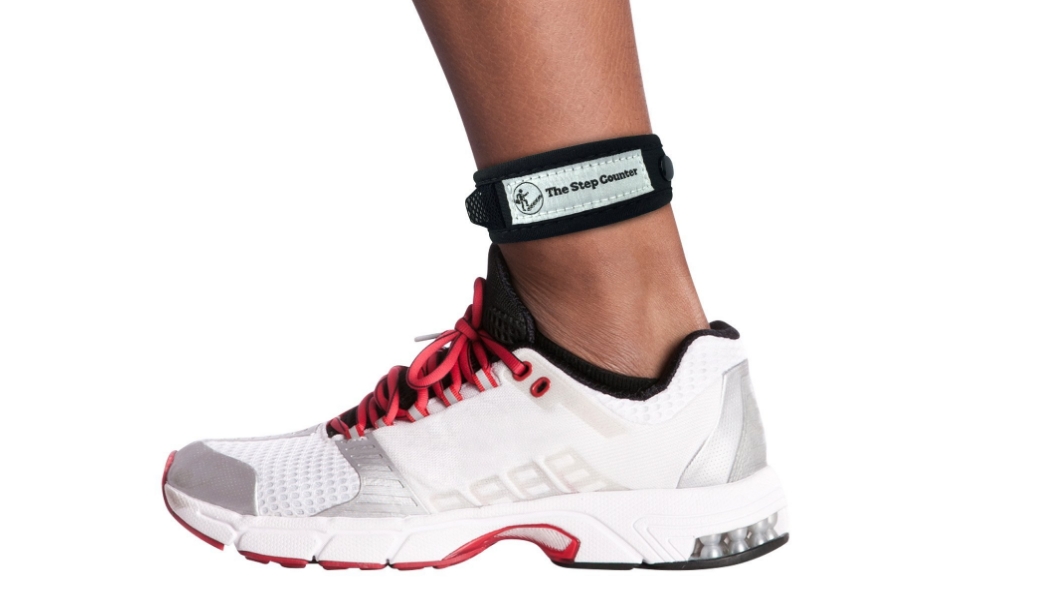 The Fitbit Flex is designed to be worn on your wrist, but there are times when that's not ideal. If you have a pushchair for example, your arms won't be moving while walking, which can lead to less accurate tracking. Strapping the Flex to your ankle can solve that, and that's exactly what this band lets you do.
Having it on your ankle also allows for a more accurate estimate of your movement while cycling, and you can save that wrist space for a normal watch.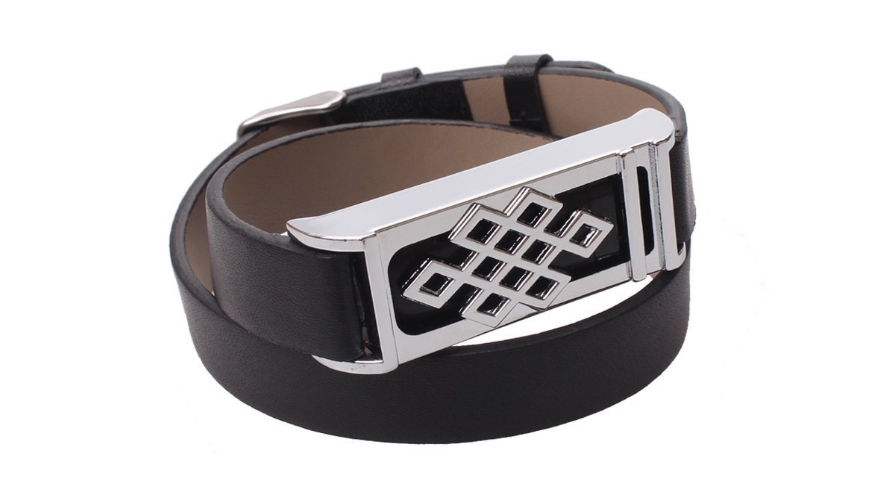 Most Fitbit Flex bands are as sporty as the tracker itself, but not this Holaca leather band. As the name suggests, it's leather, but it also has a metal design on the front, which combine to make for a fairly stylish, classy bracelet.
There are a range of color combinations to choose from, with both the metal and leather available in different shades, and the watch-like buckle ensures your Fitbit Flex will stay firmly on your wrist.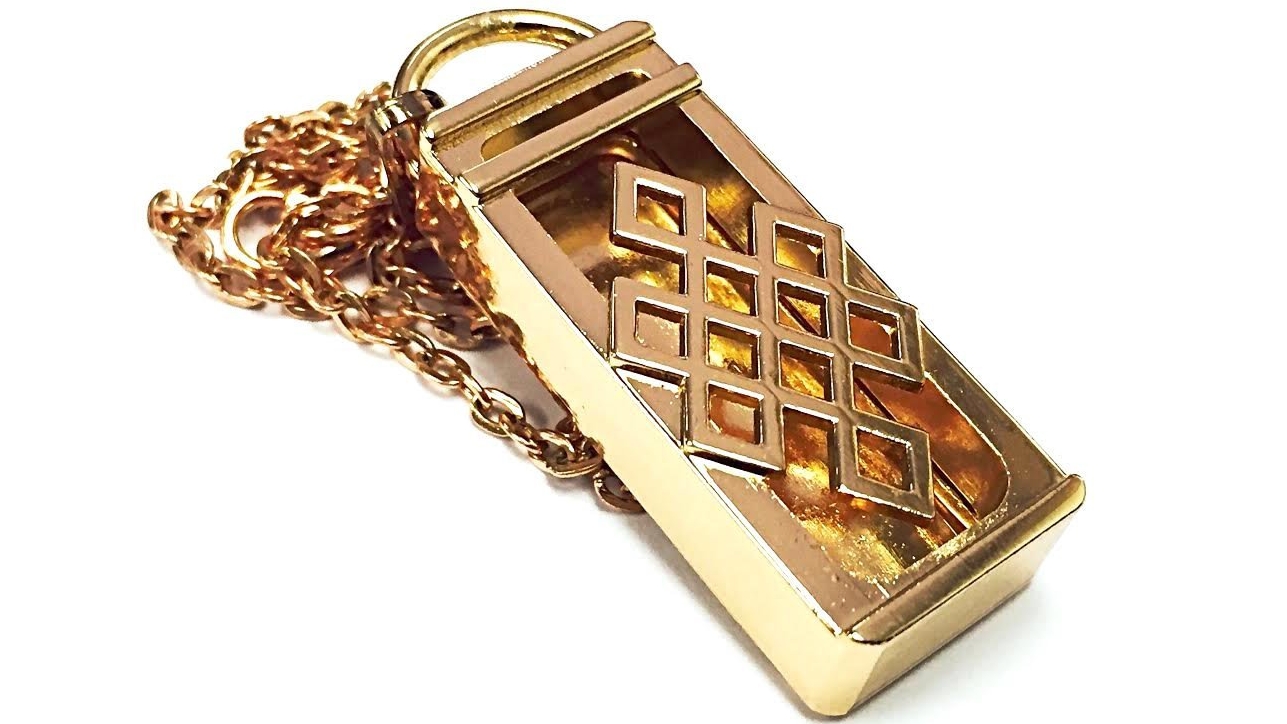 This BSI metal necklace changes your Fitbit Flex into a real piece of jewelry, almost completely covering the tracker itself with a metal pendant, complete with a metal chain so you can wear it around your neck.
There are small gaps in the pendant, allowing you to see the display on the Flex and keep track of your progress, but they're discreet, and passers-by are unlikely to even realize you're wearing a fitness tracker.
Looking for a different Fitbit?
Fitbit may offer lots of great fitness-focused devices, but we love the Fitbit Versa for a an all-day wear smartwatch that'll keep tabs on your workouts, as well as offering up apps and notifications to your wrist in style.
There are a few different customization options for your Fitbit Versa, from the different shades of metal body on offer, as well as the straps. But you're bound to get bored of whichever you choose, so we've collected together our favorite straps, including those from Fitbit, third party sellers and the best Fitbit headphones created by the brand.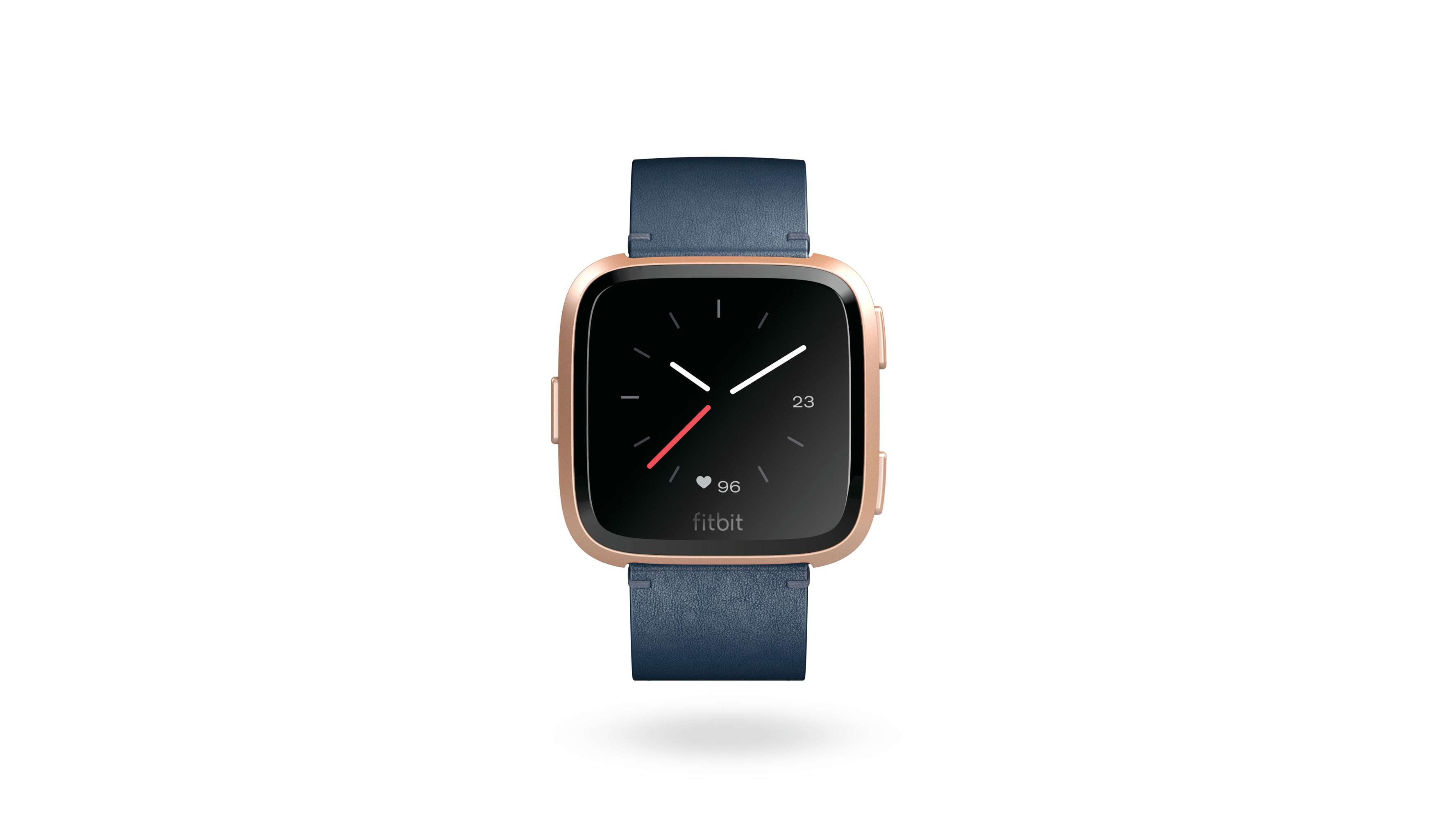 Unlike other wearable brands, Fitbit offers up a huge range of additional straps and accessories for its products. And as it's one of the newest – and most stylish – of the Fitbit range yet, there are plenty of Versa straps directly from the brand you can choose from.
The main choice of materials are classic, which is a sporty silicone, horween leather and stainless steel. We recommend you opt for a Versa with the classic silicone strap to start with because it'll wear better when you're at the gym or in the shower, but invest in a leather strap for special occasions or for workwear.
There are lots of colors to choose from, but the midnight blue is a firm favorite because it's a little less sporty-looking than the black and adds a hint of style to the rounded 'sqircle' look of the Versa.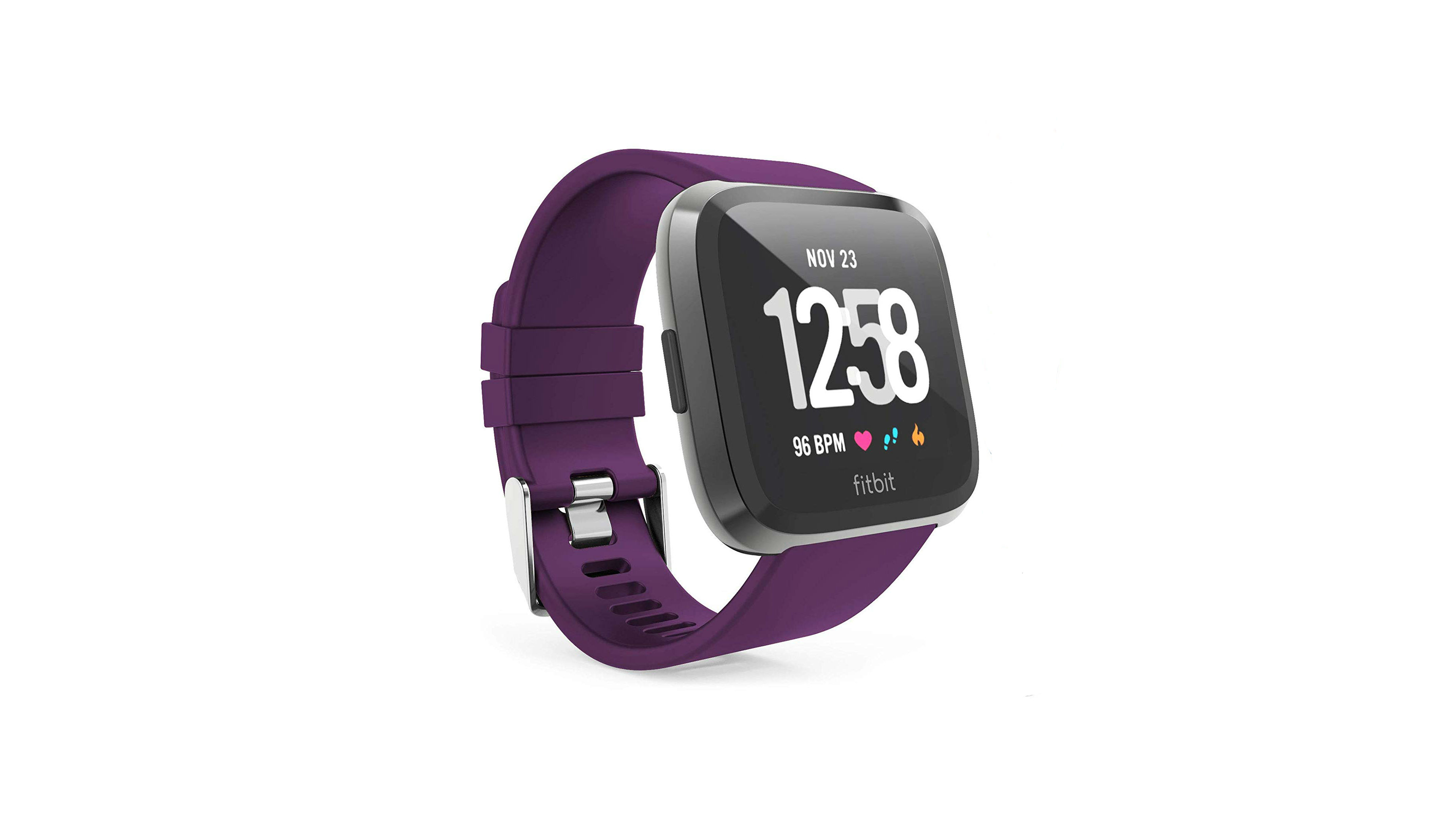 There are hundreds of different Fitbit Versa straps to choose from on Amazon, but many might give you a great choice of colors and really fall down in the quality department – trust us, we're talking from experience.
The key to buying anything strap – or anything else for that matter – on Amazon is to have a really good read of the reviews and ignore any that seem obviously fake.
We've tried a fair few third party straps and the simple, silicone ones on offer from Caseflex are some of our favorite, there's a great choice of colors, including purple, dark red and orange, the silicone seems to be suited to sensitive skin and the buckle is of a high quality for such an affordable accessory.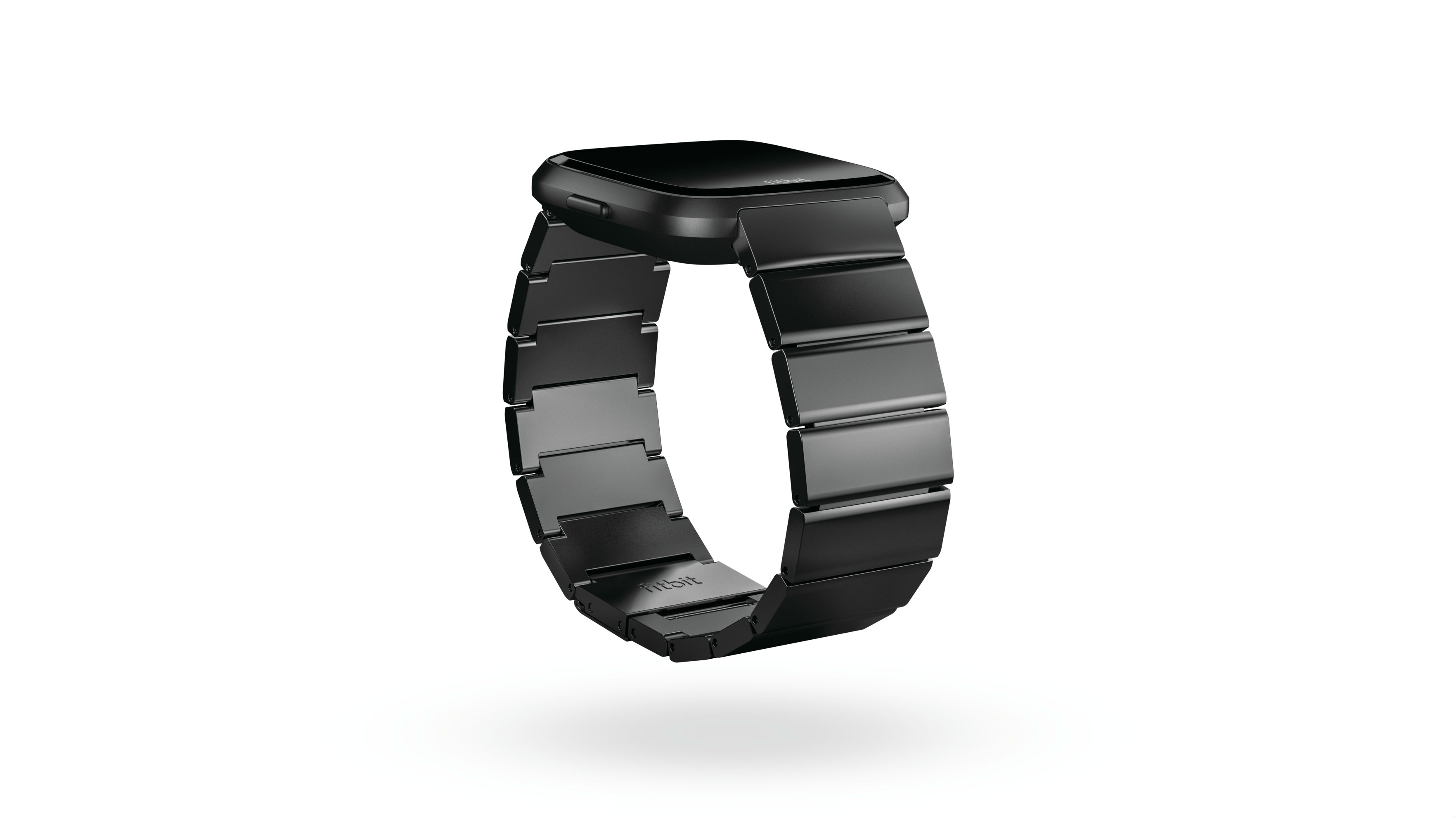 If the horween leather straps from Fitbit don't appeal to you, try one of the brand's stainless steel options instead. We love this matte black stainless steel strap with links, which instantly ups the cool style points of the Versa, transforming it from gym buddy and smartwatch to high-end accessory instantly.
Granted it's more expensive that silicone options or third party straps, but it's going to be fantastic quality and you're investing in an item of jewellery more than just an accessory.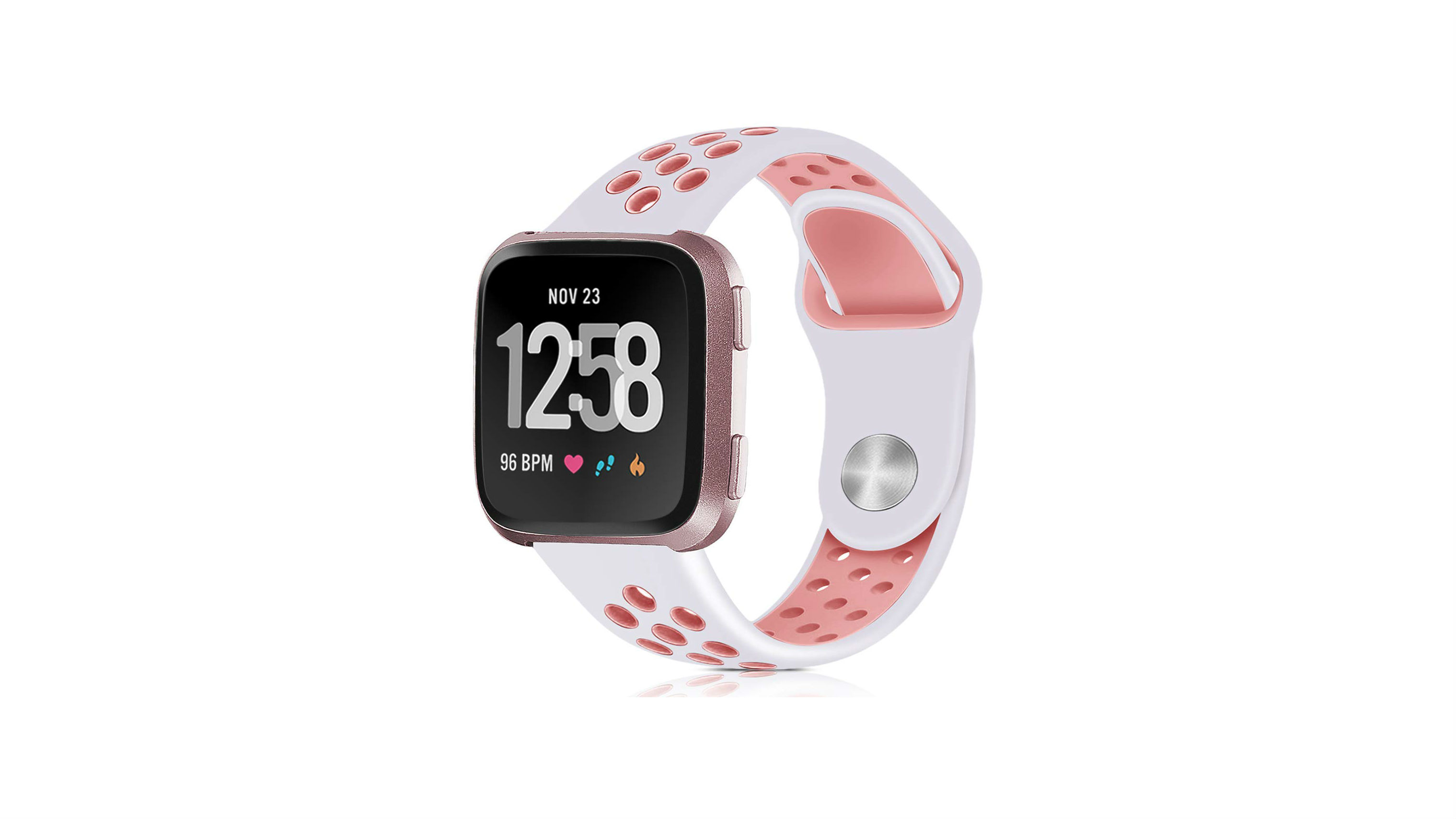 If you prefer to wear a leather or stainless steel strap with your Fitbit Versa during the day, you're still going to need a sweat-proof and pool-friendly option for when you workout and for a reliable but cheap option we recommend this strap from HUMENN.
It comes in a range of colours and has a sporty look that's similar to the style of some Apple Watch straps. Costing peanuts it might not match up to Fitbit's straps in terms of quality, but for a quick switch out for your workouts, it's a solid option.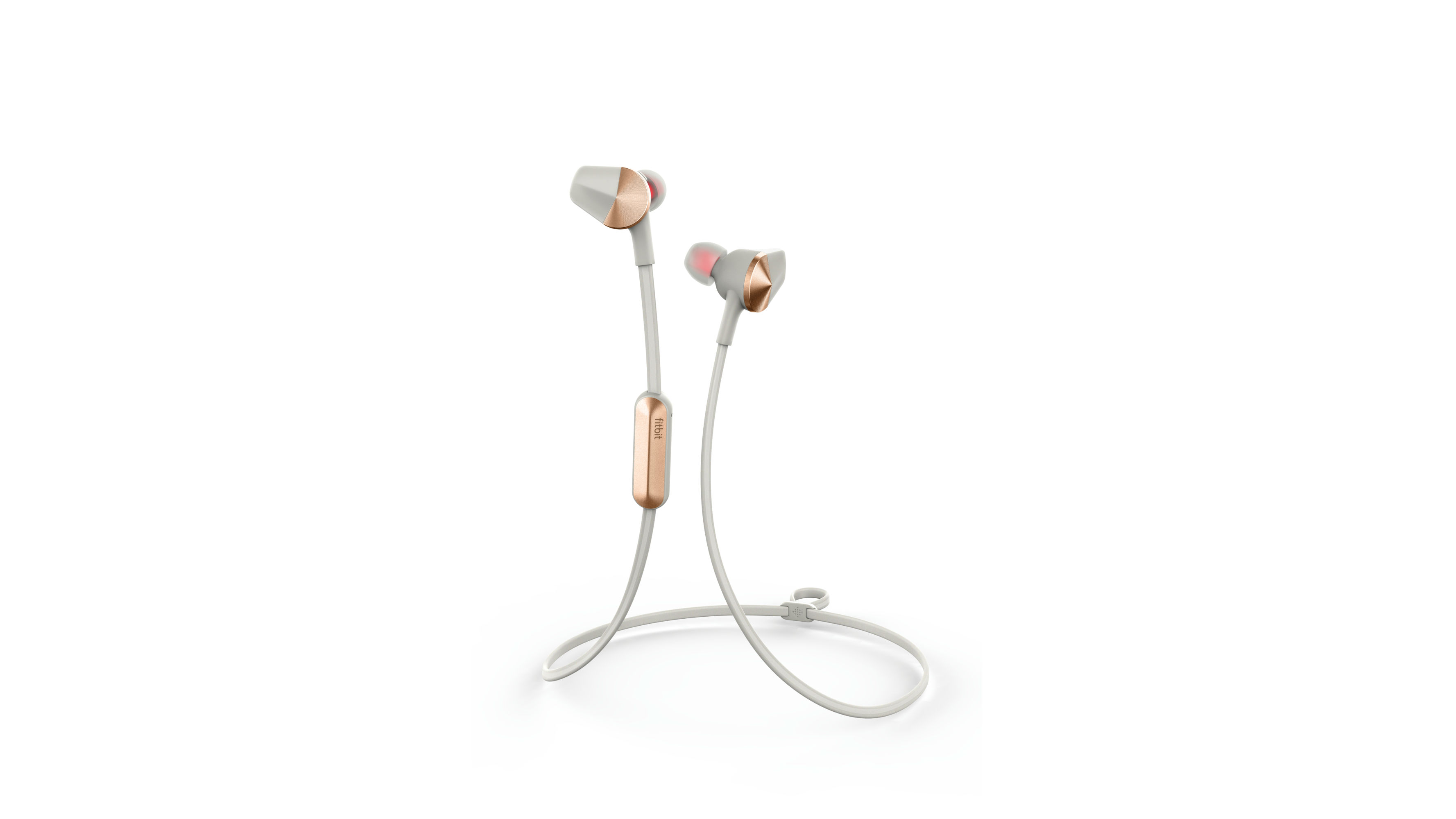 Fitbit has made a pair of headphones specially for the Fitbit Ionic and luckily they work well with the Versa too.
Fitbit claims the headphones are sweatproof, which makes them comfortable to wear during workouts. If you're looking for a pair of Bluetooth headsets we can definitely recommend, be sure to check out our full guide of the best running headphones right now.