Update: We're just a few weeks out from the launch of the Xbox One X, the new ultra-powerful native 4K console from Microsoft. Check out our updated hands on Xbox One X review, as well as the information we were given about the Xbox One X's VR capabilities, as well as what exactly 'Enhanced for Xbox One X' actually means.
Stay tuned for when the console launches when we'll be reviewing it in full, as well as comparing it to Sony's massively successful 4K powerhouse, the PS4 Pro.
Article continues below…
Wow, the console market has gotten complicated hasn't it? What started as a simple two horse race between the PS4 and Xbox One back in 2013 now consists of a massive six different pieces of hardware, and that's not even including what Nintendo's been up to over the years.
It's no longer a simple choice between a single piece of hardware from Microsoft against a single piece of hardware from Sony.
Sony's lineup currently consists of two pieces of hardware that are currently on sale. You've got the slim PS4 that replaced the original console back in 2016, and the PS4 Pro, which plays all of the same games but is designed for use with 4K televisions.
Meanwhile, Microsoft's lineup currently consists of just one machine, the Xbox One S, which has now superseded the Xbox One as the default Microsoft console. This will be joined by the Xbox One X later this year, which is a 4K version of the console.
This guide will compare the two ecosystems as a whole rather than comparing specific pieces of hardware, which are contained in separate guides below. We'll consider their respective specs, graphics, prices, controllers, games and non-gaming functionality.
In terms of sales, Sony has a comfortable lead. According to VGChartz, the company has sold almost 60 million consoles compared to Microsoft's 30 million Xbox Ones.
The company has made sure its system is packed full of excellent exclusive games (just check out our list of the best PS4 games if you're in any doubt), and it's recently received a new slimline model as well as an upgraded 4K machine.
Oh, and it's also the only console to feature a fully-fledged virtual reality headset, the PlayStation VR.
Check out our US PS4 deals, UK PS4 deals, and Australian PS4 deals pages.
Not to be outdone, Microsoft has come back strong, and in recent months has narrowed the sales gap with Sony. As well as bringing a number of excellent exclusives of its own (check out our guide to the best Xbox One games for more details), the company also has its own slimline console, the Xbox One S.
Whereas Sony has played it safe with the PS4 Slim, Microsoft has been much more adventurous, and has equipped the One S with an Ultra HD Blu-ray drive, and the ability to upscale games to 4K. There's also the Xbox One X on the horizon, which will offer native (rather than upscaled) 4K gaming.
The company has also got big ambitions for Xbox One/Windows 10 compatibility with the Xbox Play Anywhere and Xbox Game Pass initiatives. It's gotten of to a bit of a rocky start, but it has the potential to really take off in the future.
Even beyond PC/Xbox cross-play, Microsoft has also been very open with allowing cross-platform multiplayer with the flagship gaming being Minecraft, which will shortly support cross-play with a number of other pieces of hardware.
Check out our US Xbox One deals, UK Xbox One deals and Australian Xbox One deals pages.
We've put together a short video to explain the major differences between the two consoles.
Xbox One vs PS4 hardware versions and design
The PS4 is available in two different versions, the PS4 Slim and the PS4 Pro.
Meanwhile the Xbox One is available in just one, the Xbox One S, which will be joined by the Xbox One X later this year.
Whereas previously there were just two pieces of hardware to choose between, there are now close to a half dozen as Sony and Microsoft have updated and upgraded their console offerings over the past three and a half years.
The Xbox One platform has so far seen two hardware versions, the original Xbox One and 2016's slimmer Xbox One S. These will be joined by the Xbox One X later on in 2017.
The original Xbox One's dimensions make it a menacing gaming beast that measures 13.5 in x 10.4 in x 3.2 in, not including a hefty external power brick. It was riddled with vents, a design decision to avoid another Red Ring of Death overheating scenario.
Meanwhile the Xbox One S is a much more diminutive machine. It's smaller, measuring just 11.6 x 8.9 x 2.5 in and doesn't include an external power brick. It's got the same vented design as its older brother, but is generally much sleeker in appearance.
The Xbox One S is, for all intents and purposes, the default Xbox One now being sold by Microsoft.
Our guide to the Xbox One X vs Xbox One S vs Xbox One will clue you in as to the differences in the Xbox family.
Meanwhile the PS4 has seen three different hardware versions in total, of which two are currently on sale.
The original PS4 has a more distinctive angular shape with an overall stylish design. This half-matte half-gloss console measures a slimmer 10.8 in x 12 in x 2 in at its widest regions.
This was replaced by a PS4 that was entirely matte, while retaining the same dimensions.
Finally, the PS4 saw a slim model released in 2016, which shrunk its dimensions down to 10.4 x 11.3 x 1.5 in, which is smaller than the Xbox One S.
In addition to the PS4 slim, 2016 also saw the release of the PS4 Pro, which added 4K output to the PS4 ecosystem. A small amount of this 4K is achieved through running games natively at that resolution, while the majority is achieved through upscaling, which doesn't look quite as good.
As well as a boost in power, the PS4 Pro is also a bigger machine at 12.8 x 11.6 x 2.1 in.
Our guide to the PS4 Slim vs PS4 Pro outlines the differences between the consoles in more detail.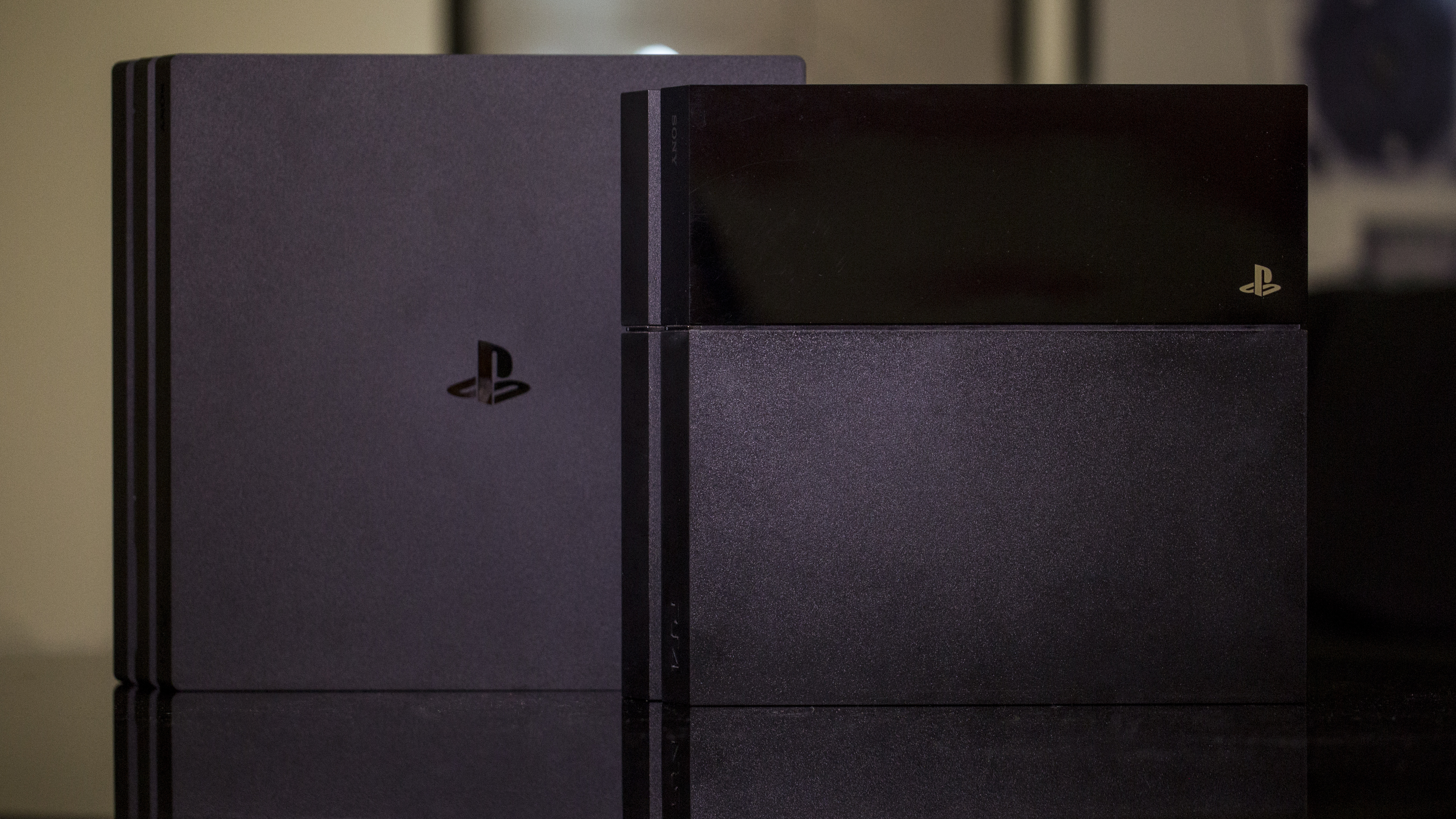 All these different models of hardware makes drawing comparisons between the two consoles surprisingly difficult, especially when you start looking at graphical comparisons.
However, from a physical perspective after launching with massive differences in size, the most recent versions are much more equal. If you're more short on space then the PS4 slim has the slight edge, but it's not light and day.
Xbox One vs PS4 connectivity
You can't upgrade Xbox One's internal hard drive, but you can on the PS4.
Both consoles support the use of external hard drives.
The Xbox One has more ports on its rear.
Depending on how your gaming setup is organised, the connectivity of your console might end up being very important indeed.
Let's look at the rear of the Xbox One S first. It's got two HDMI ports, one for receiving an input from a cable or satellite box and one to output to your TV. In addition it's got two USB 3 ports, an IR out, an optical audio output, Ethernet port, and finally a two-pronged power port.
Between these ports you should have everything you need, unless you're interested in using a Kinect camera. The original Xbox One came with a dedicated port for the camera, which you'll have to buy an adapter for if you want to use with your new console.
The port situation is similar on the PS4 Pro, albeit slightly slimmed down. You'll find a single HDMI port for outputting to a TV, a digital optical out, a single USB port, an Ethernet port, and a power port.
The PS4 Pro does, however, include a port for connecting the PS4's camera. It's not got quite the same functionality as the Xbox's Kinect, but it's nice to have the option.
Meanwhile, the PS4 slim is identical, minus the removal of the optical audio port. This won't matter for many people, but if your audio system relies on the digital audio connector then it could matter to you.
In terms of internet connectivity, all three consoles support 802.11ac Wi-Fi, and gigabit Ethernet.
Both systems launched with 500GB hard drives and now have 1TB variants, but only PS4 allows user-replaceable internal drives.
However, both support the use of external hard drives, meaning you can place your bulky game installations externally if you don't want to fill up your console's internal hard drive.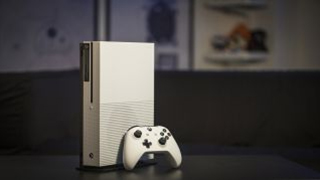 PS4 and Xbox One are void of remarkable characteristics on the front. There's a Blu-ray/DVD combo drive to the left (which can play Ultra HD Blu-rays on the Xbox One S) and their respective, muted-color logos to the right. PS4 has a pair of USB ports tucked between its sandwich-like halves next to where the disc drive is located.
Check out our guide to the best soundbars if you want to give your console's audio a boost.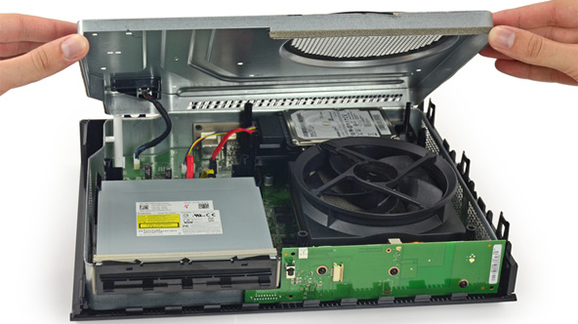 Is PS4 or Xbox more powerful?
The Xbox has a more powerful CPU.
The PS4 has a more powerful GPU.
The PS4 Pro is more powerful than both machines, but will lose out when the Xbox One X releases.
PS4 and Xbox One multiply the power of Xbox 360 and PS3. More importantly, they were built with smarter internal designs, drawing from mistakes of last-generation consoles.
Chip manufacturer AMD is behind most of these upgrades. Both the original Xbox One and the Xbox One S have a custom 1.75GHz AMD 8-core CPU.
The base PS4 CPU remained clocked at 1.6GHz and contains a similar custom AMD 8-core CPU with x86 based architecture, while the PS4 Pro bumps that clock speed up to 2.13GHz.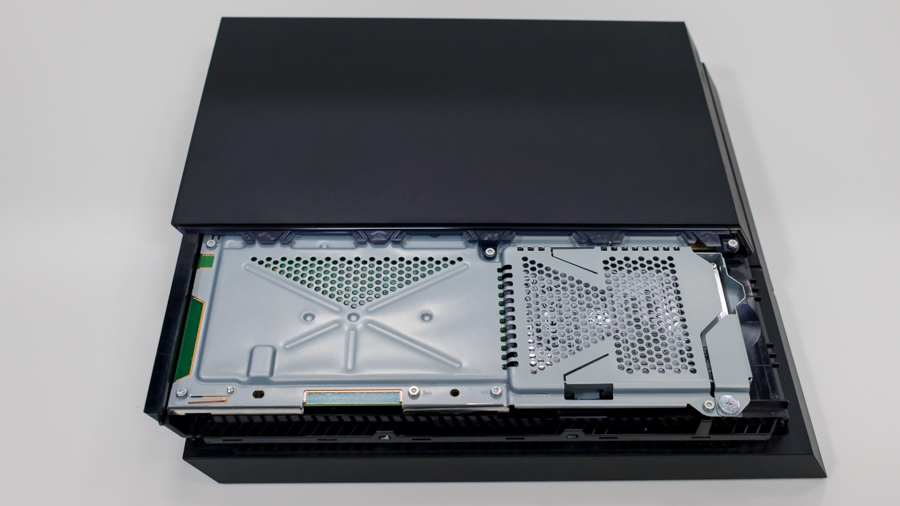 The original PS4 boasts a 1.84 teraflop GPU that's based on AMD's Radeon technology. Meanwhile the original Xbox One graphics chip, also with an AMD Radeon GPU, had a pipeline for 1.31 teraflops, although this increased to 1.4 teraflops with the Xbox One S.
The PS4 Pro, meanwhile, has a GPU with a considerably increased 4.2 teraflops of graphical horsepower.
When it came to the original consoles, the PS4 won out in terms of raw power, although the Xbox One S closed the gap considerably.
With the Xbox One X still yet to hit store shelves, the PS4 Pro is currently the most powerful console out there, but that will all change this November with the arrival of the 6 teraflop behemoth from Microsoft.
Best PS4 vs Xbox One specs for RAM
Both systems have 8GB of RAM overall.
But they allocate that memory to developers differently.
Even more controversial is the memory under the consoles' matte black hoods. It's not the amount of RAM at issue – both are future-proofed with 8GB of RAM – it's the type of RAM used.
Both the PS4 and PS4 Pro have a distinct advantage with faster 8GB GDDR5 memory, while both the original Xbox One and the Xbox One S went with the slower bandwidth of the 8GB DDR3 variety. But, wait, there's more to it.
Neither system allocates all of that RAM to game developers – some is reserved to run their operating systems.
PS4 reserves up to 3.5GB for its operating system, leaving developers with 4.5GB, according to documentation. They can sometimes access an extra 1GB of "flexible" memory when it's available, but that's not guaranteed.
Xbox One's "guaranteed memory" amounts to a slightly higher 5GB for developers, as Microsoft's multi-layered operating system takes up a steady 3GB. It eeks out a 0.5GB win with more developer-accessible memory than PS4, unless you factor in Sony's 1GB of "flexible" memory at times. Then it's 0.5GB less.
The landscape will change once more with the arrival of the Xbox One X, which will both upgrade the console's RAM to GBBR5, as well as boosting the capacity to 12GB.
The console's currently on the market now have similar AMD architecture at their core, but contrast like apples and oranges when it comes to memory. Only developers can determine how this battle is won.
PS4 vs Xbox One graphics comparison
Games on PS4 tend to run at higher resolutions than their Xbox One counterparts.
The graphics comparison between multi-console games such as Grand Theft Auto 5 and Metal Gear Solid 5 have given us the best PS4 vs Xbox One graphics benchmarks.
A gameplay video on YouTube of GTA 5 pans between the two next-gen versions of the game with a definitive answer. The PS4 GPU is able to handle more foliage in environments.
Yes, you literally have to get into the weeds to see the differences, though both the PS4 and Xbox editions of GTA 5 look stellar compared to their last-gen counterparts.
It goes without saying that the PS4 Pro leaves both consoles behind in terms of graphical fidelity. We'll have to wait for the arrival of the Xbox One X to see a piece of hardware that can compete with the Pro.
In the Metal Gear Solid 5 comparison, there's slightly more clarity to the PS4 version. Specifically, distant textures and moving objects appear softer among the otherwise identical Xbox One visuals.
It's a trend we're seeing from PS4 games that achieve a 1080p resolution at 30 or 60 frames per second when their Xbox One counterparts run at 720p or 900p at 30 or 60fps.
This is a trend that's continuing today, with video analysis such as the one below indicating that Battlefield 1 runs at a consistently higher resolution on the PS4 than the Xbox One, with both consoles hitting the same 60 fps frame-rate.
It's a similar story when it comes to Titanfall 2, which likewise runs at a lower resolution on Xbox One.
Overall, the PS4 appears to have the edge on the Xbox One, but this could all change when the Xbox One X is eventually released, with a GPU that's far more powerful than what's currently sitting in the PS4 Pro.
Xbox One vs PS4 price difference
PS4 was initially much cheaper than Xbox One 
But price drops have since leveled the playing field
It's expensive to be an early adopter, and the initial PS4 and Xbox One prices prove just that in each of the countries the systems have launched.
Three years ago, the PS4 price was the more tempting deal: $399 (£349.99 / AU$549) for the console and DualShock 4 controller. Xbox One was expensive at $499 (£429 / AU$499) for the system, Xbox One controller and Kinect.
But now after several price drops from both consoles (not to mention now that the Xbox One has dropped its compulsory Kinect peripheral), the two consoles are much more evenly matched.
In fact, recent sales have seen the consoles swapping places to be the cheaper of the two.
In the US, the 500GB version of the Xbox One S is just about the cheaper of the two at $279 compared to $299.99, but the 1TB version is around $50 more expensive.
Meanwhile in the UK, the 500GB version of the Xbox One S is a shade cheaper, while the 1TB versions of the consoles are identically priced.
Finally, in Australia the Xbox One S is the cheaper of the two whether you want a 500GB or a 1TB model.
With that said, frequent deals mean that the console's prices are always in flux. Keep an eye trained on our best Xbox One deals and best PS4 deals pages.
In terms of the more powerful PS4 Pro and the Xbox One X, the latter is currently set to be the more expensive of the two at $499.99 compared to $399.99, but we imagine frequent sales will considerably narrow this gap.
If you want to pick up a bargain, Black Friday is normally a good place to start, although unfortunately the Xbox One X won't be out by the time this year's sales period rolls around.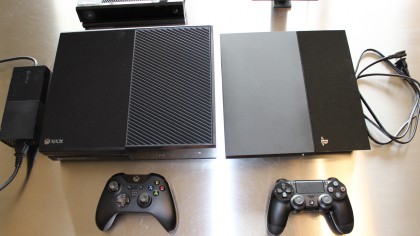 What's in the box?
Both systems come with a controller, trial offers and an HDMI cable
There was more value in the original Xbox One Kinect bundle, accounting for some of the initial price difference, so it's important to dive deeper into what's included and, of course, what's not included in the box.
At launch, Xbox Ones came with the console, a controller. and the Kinect camera. These systems also had "Day One 2013" emblazoned on the cardboard box and at the center of the controller.
That's a nice perk for Xbox loyalists, though not worth the premium they paid. Subsequent Xbox One bundles have included Forza Horizon 3 or FIFA 17 for the same price, while newer, cheaper systems make Kinect optional.
All Xbox One boxes contains an HDMI cable and stingy 14-day free trial for Microsoft's Xbox Live Gold online service. There's no USB charging cable, as the Xbox One controller uses batteries out-of-the-box.
Inside both the PS4 and PS4 Pro boxes are the consoles and a single DualShock 4 controller. Wires include an HDMI cable (Sony learned its lesson after backlash for not including one with the PS3) and a micro-USB cable for the controller.
Don't throw out the box right away. Tucked inside is a 30-day subscription to PlayStation Plus and a wired mono earbud.
The price difference between the PS4 and Xbox One was a sticking point for gamers over the first several months. Microsoft reshaped the argument at E3 2014 with price-matched Kinect-free Xbox One, which has allowed it to be much more competitive on price since.
The controllers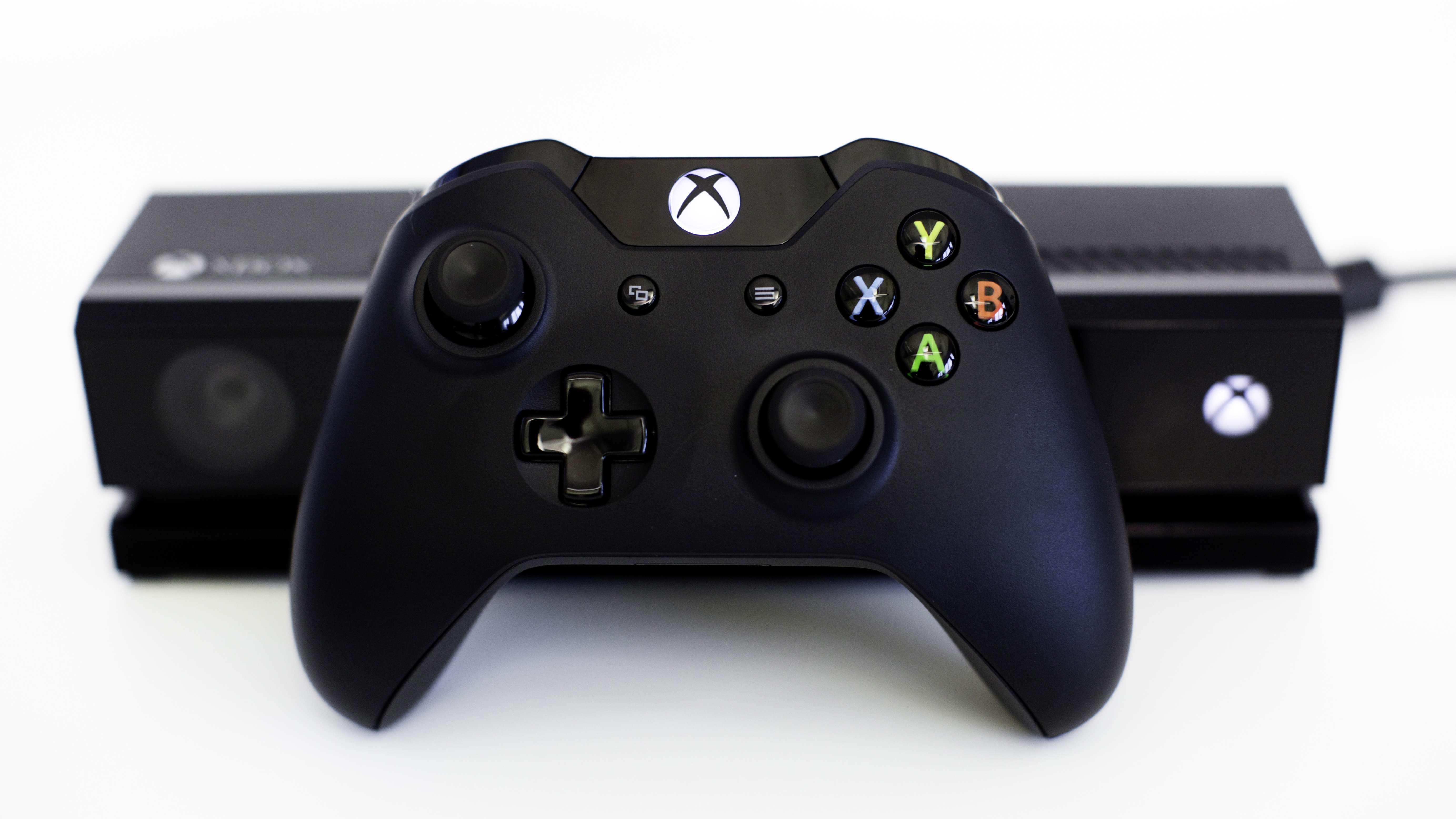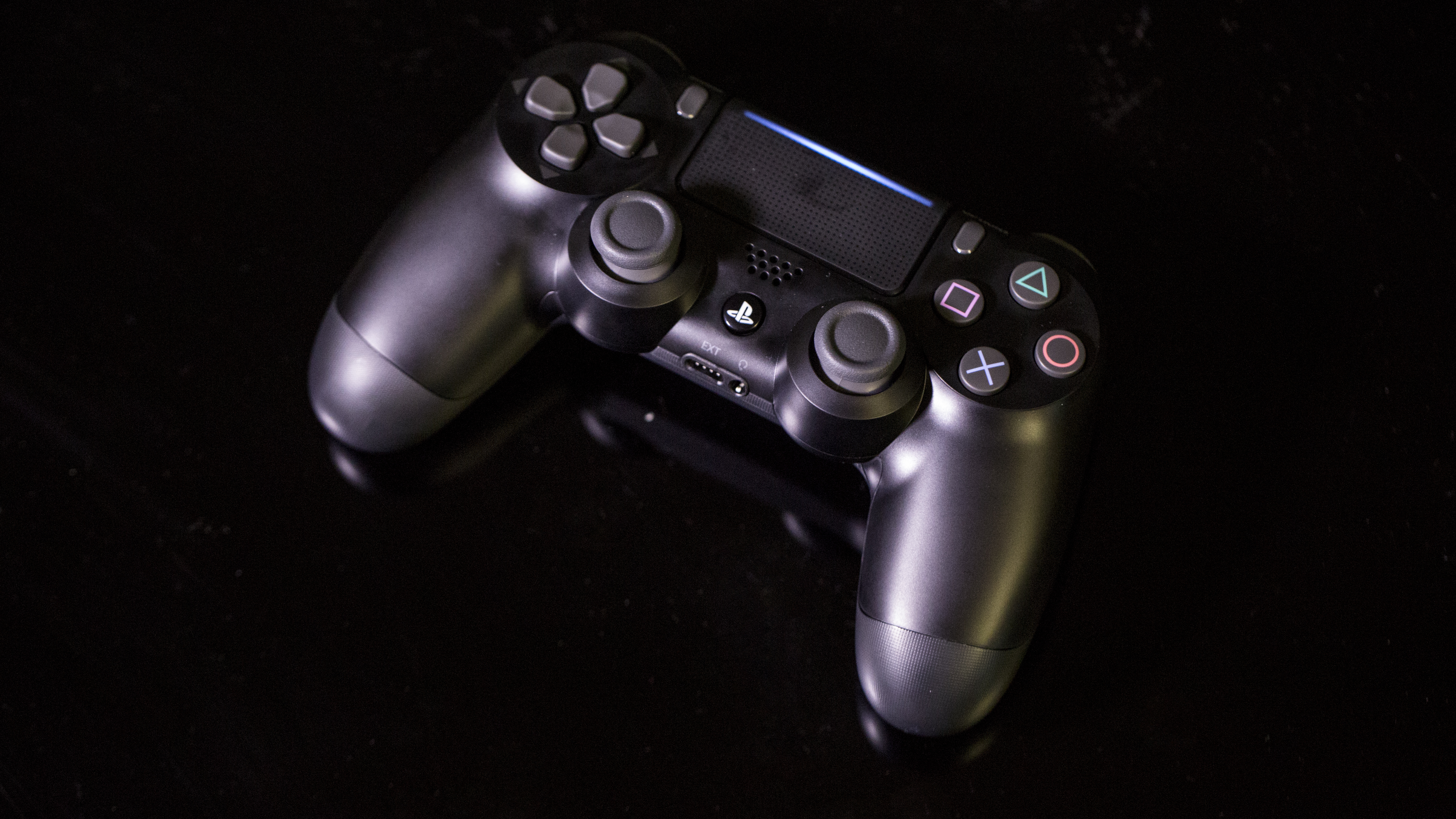 Both controllers are well-made and comfortable.
Which is better is a matter of personal preference.
The most important aspects of the PS4 vs Xbox One controller comparison include comfort, size and battery life, but a lot of this is going to come down to personal preference.
The good news is that both conform to your hands better vs the less ergonomic Xbox 360 and PS3 versions.
The Xbox One vs Xbox 360 gamepad comparison illustrates some of the 40 design innovations like a tweaked D-Pad and extra rumble effect via "Impulse Triggers" in the shoulder buttons.
Microsoft took its controller changes even further with the Xbox Elite Wireless Controller. This pro-level gamepad adds four back pedal, two settings for the right and left shoulder triggers, swappable analog sticks and new D-pad choices. It is expensive at $150, however.
Our PS4 vs PS3 gamepad comparison shows even bigger improvements thanks to the fact that the DualShock 4 is larger this time around. Its handles are easier to grip in long gameplay sessions and its dual analog sticks have a recessed divot. Precision movement is now easier.
With the new DualShock 4 that's come out alongside the new slimline PS4 the controller has seen a further improvement with the addition of a wired connectivity mode, which eliminates the input lag associated with Bluetooth connectivity.
The PS4 controller's front touchpad and mono speaker are a unique way to interact with games, and developers are starting to find ways to adopt this technology into their controls schemes.
Which controller is better? There's a lot of satisfaction with the PS4 gamepad, but that may have more to do with people's surprise at how much more comfortable the DualShock 4 is compared to the DualShock 3. That wow factor may wear away soon. It also comes with a rechargeable battery pack, rather than relying on AA batteries like the Xbox One.
The Xbox One vs PS4 controller comparison ends up being a matter of opinion. Some gamers are accustomed to Sony's parallel dual analog sticks, while plenty of others opt for offset analog sticks that have been part of the Xbox universe since the beginning.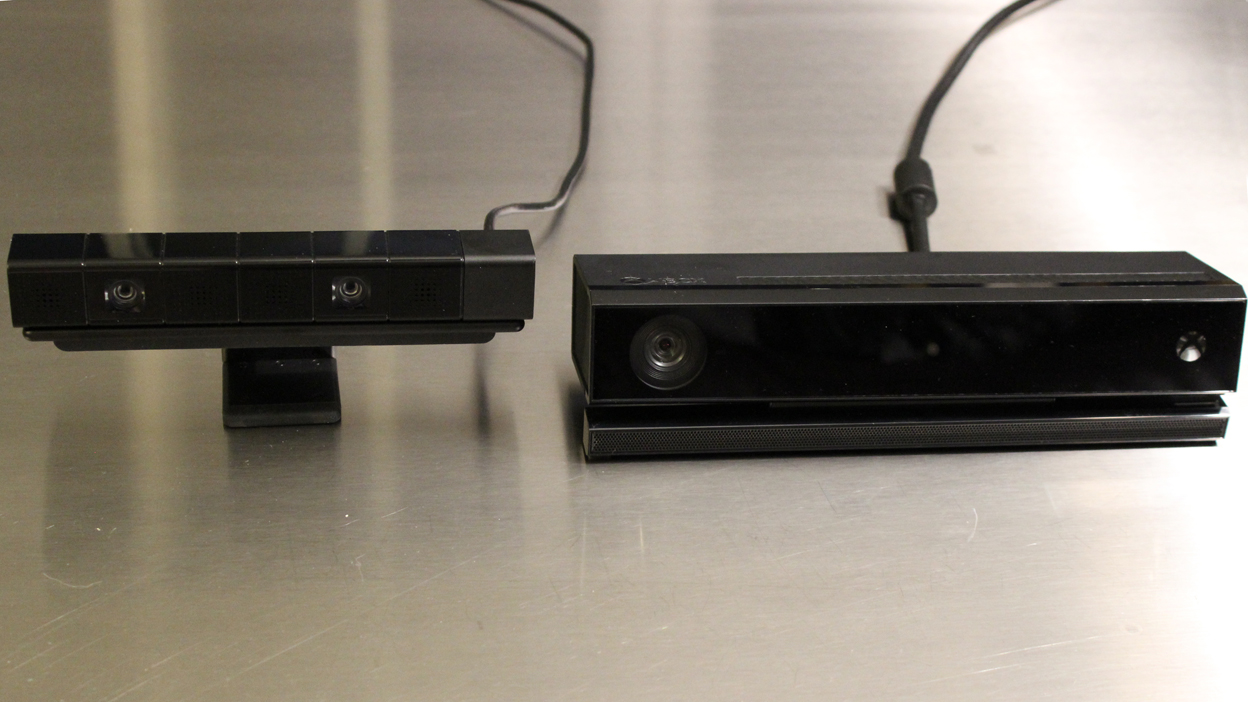 Xbox One Kinect vs PS4 Camera
Kinect was promising but is no longer included with the console.
Meanwhile PlayStation camera has become an essential accessory if you're looking to use a PlayStation VR headset.
Although they were touted as being integral parts of the two consoles when they first came out, in recent years both the PS4 Camera and the Xbox One Kinect have declined in importance.
The former has gained a new lease of life as an essential part of the PlayStation VR ecosystem, but outside of this remains almost entirely unused.
That's a shame because at one point the new Kinect technology looked very promising, tracking up to six skeletons at once and processing 2GB of data per second. It could even pick up heart rates, facial expressions and 25 joints, thumbs included.
The camera's 60% wider field of vision compared to the Xbox 360 Kinect remedied the annoying "stand 6 feet away" error messages we experienced last time around.
Xbox One Kinect is certainly powerful, it just needs more games. Right now, there are few reasons to keep the 1080p camera plugged in, and now that Microsoft has stopped bundling them with the system, it looks like more aren't likely to be on the way.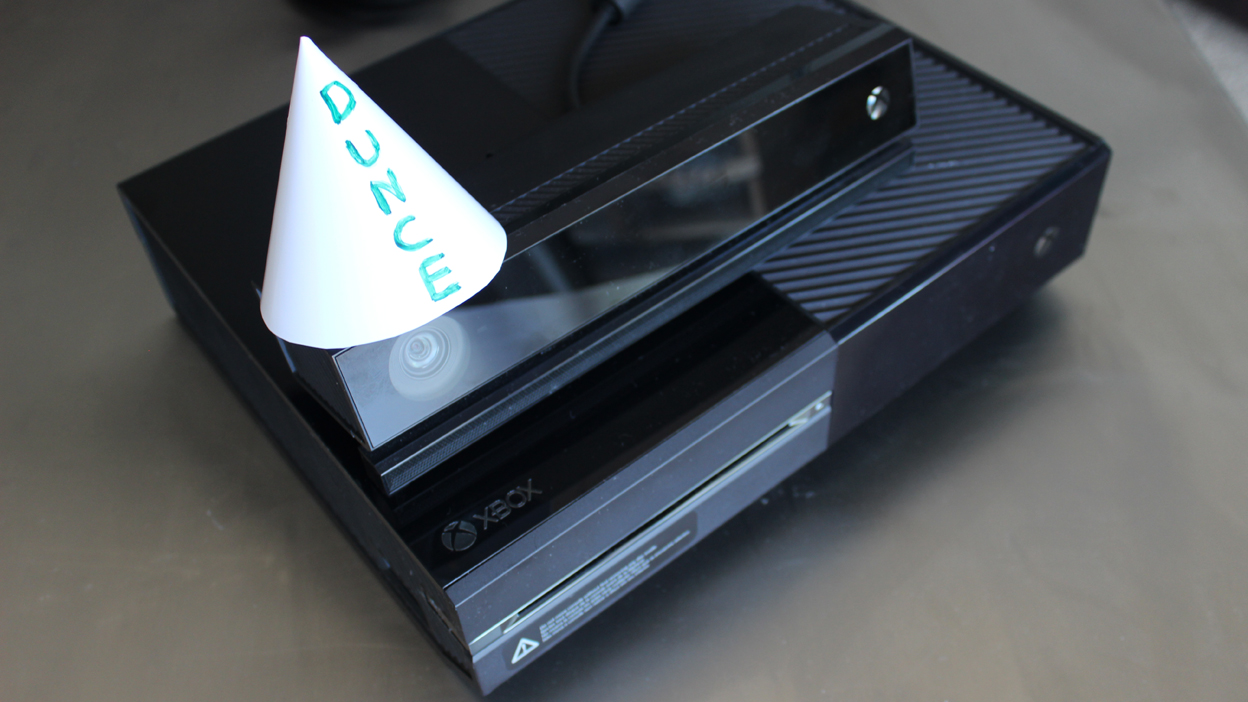 There's a free Kinect Sports Rivals demo that's fun, and the full version came out last year. It also supports two Xbox-exclusive workout games, Just Dance 2014 and a pair of Harmonix titles: Fantasia: Music Evolved and Dance Central Spotlight. Fighter Within, though, is far from playable.
PS4 doesn't have as much to offer at this point either, but it's hard to find in stock. Formerly called the PlayStation Eye, it features two 1280x800px cameras in a body that's slimmer than the Kinect.
Unfortunately, the PS4 Camera games list is also slimmer. The included robot mini-game The Playroom has been updated since the console launch, but little else besides Just Dance 2014 requires the device.
You will however need to buy a PlayStation camera if you want to use a PlayStation VR, since the headset uses the camera to know where your head is. With the PSVR the camera has fast changed from an optional accessory to an essential piece of kit.
The best PS4 and Xbox One games
Both consoles have some great exclusive games.
Sony's exclusives have tended to be third-person games, while Microsoft has seen a number of high-profile racing exclusives.
Both the PS4 and Xbox One now have substantial games libraries. The PS4 has just over 1200 games, of which over 100 are exclusives, while the Xbox One has only about 876 games, of which just 30 are exclusives.
The Halo and Gears of War series stand above all others on Xbox One if you're into shooter games, and Sunset Overdrive feature just as crazy-frantic gameplay. Halo: The Master Chief Collection lets us relive all the old classics, although the experience was somewhat spoiled by a number of technical problems that have never been fully solved. But its with its exclusive racing games that the Xbox One really excels, with Forza Motorsport 6 and Forza Horizon 3 being excellent entries in the series.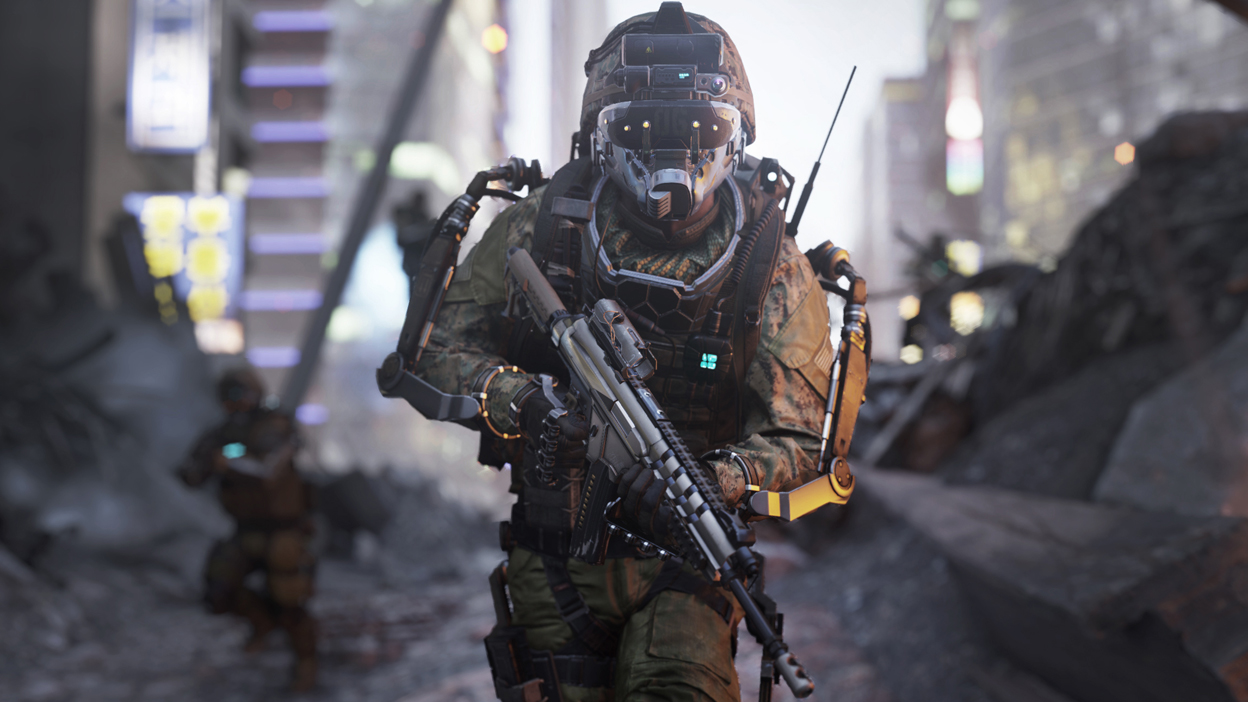 One Xbox One game on the horizon that we're excited to play is Sea of Thieves, which is sure to join the growing best Xbox One Games list.
The quality and quantity of Sony's exclusives have really impressed us this generation. Recently we awarded Uncharted 4 a 'Play it Now' rating, the highest on the Techradar scoring system. Meanwhile, the hard-as-heck Bloodborne and The Witness also impressed.
Finally, remakes of The Last of Us and Ratchet and Clank round out what is a very impressive series of PS4 exclusives, but check out our guide to the best PS4 games for a full list.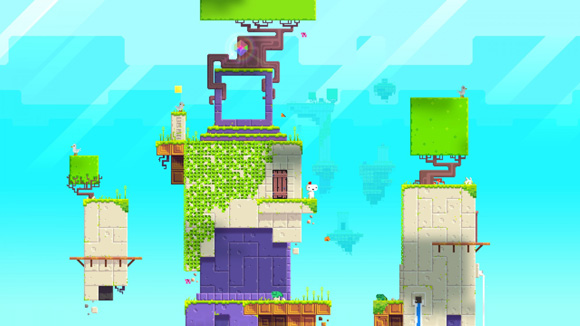 Indie games on PS4 and Xbox One
Sony's console has the higher-profile indie games.
Microsoft's move to make every console a developer kit could be huge.
Our most-wanted PS4 games list doesn't end there because Sony got out in front of supporting independent game developers.
Octodad: Dadliest Catch from Young Horses and Transistor from Supergiant Games came to Sony's console in April and May two years ago.
Meanwhile the Xbox One has also seen some excellent smaller games including Ori and the Blind Forest.
The amount of indie games on the console could be about to explode really soon if indie developers make use of Microsoft's recent move to turn every console into a developer kit, which should substantially lower the barrier to entry of developing for the system. Already we're seeing a massive increase in the number of indie games that Microsoft is releasing on its console as part of the ID@Xbox program.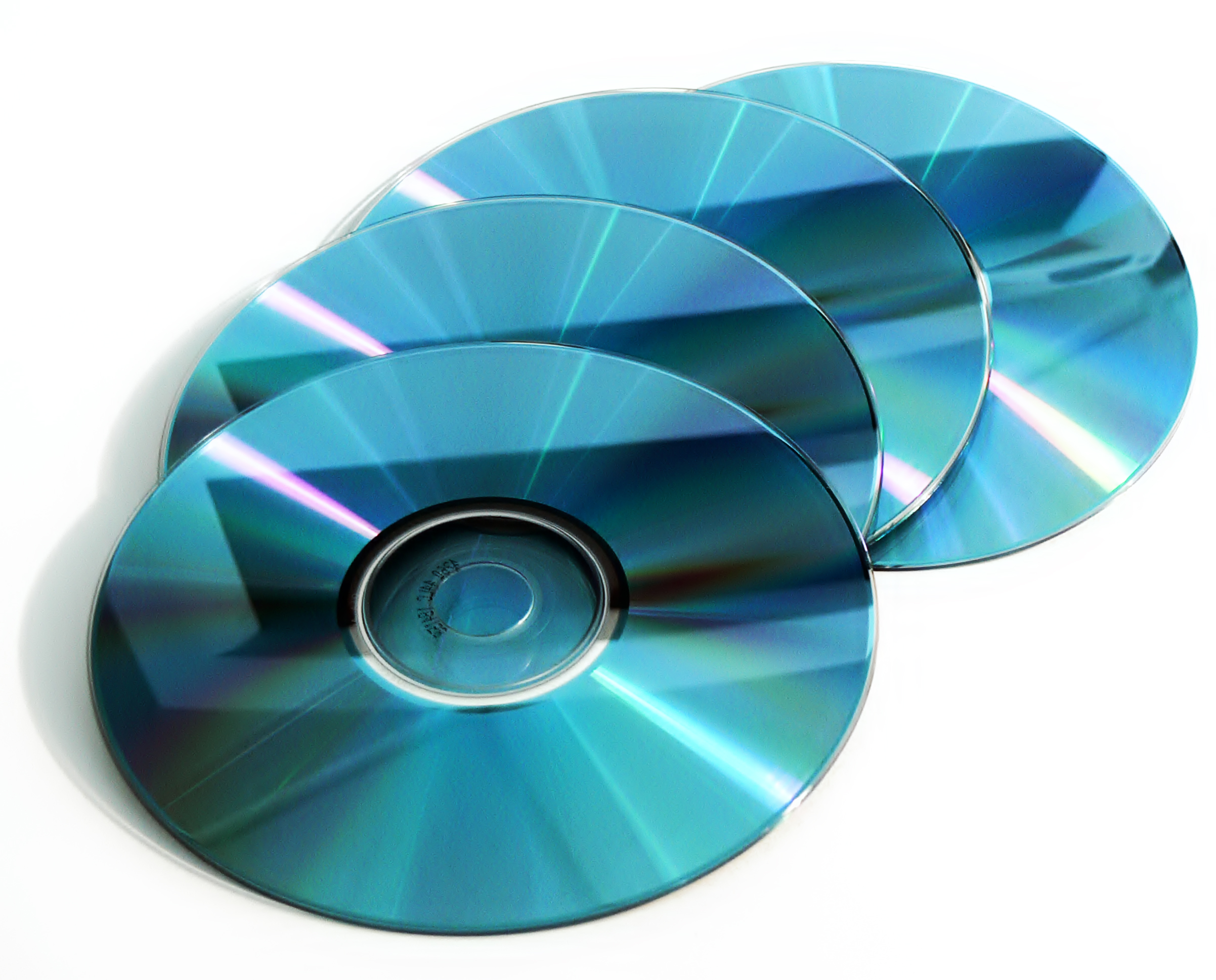 Media
Xbox One S features an Ultra HD Blu-ray player
PS4 Pro has to rely on streaming for 4K content
Standard PS4 and Xbox One both limited to 1080p playback
Considering Sony's PS2 and PS3 consoles acted as early DVD and Blu-ray players respectively, so it's slightly surprising that the Xbox One S has been the first console to launch with an Ultra HD Blu-ray player.
Ultra HD Blu-rays are the latest and greatest disc format, and offer the best audio and video quality if you're looking to watch movies at home. The amount of discs available is slightly thin on the ground as it currently stands, but the situation is sure to improve in the future as the amount of 4K releases ramps up.
Of course, streaming is now the dominant way of consuming media at home, and both the Xbox One S and PS4 Pro are able to handle 4K streams from the likes of Netflix and Amazon Prime. The limitations of streaming mean that the image quality won't quite be as good as physical media, but it's a much cheaper way to access 4K content.
We'll delve into more detail about the availability of apps for each console below.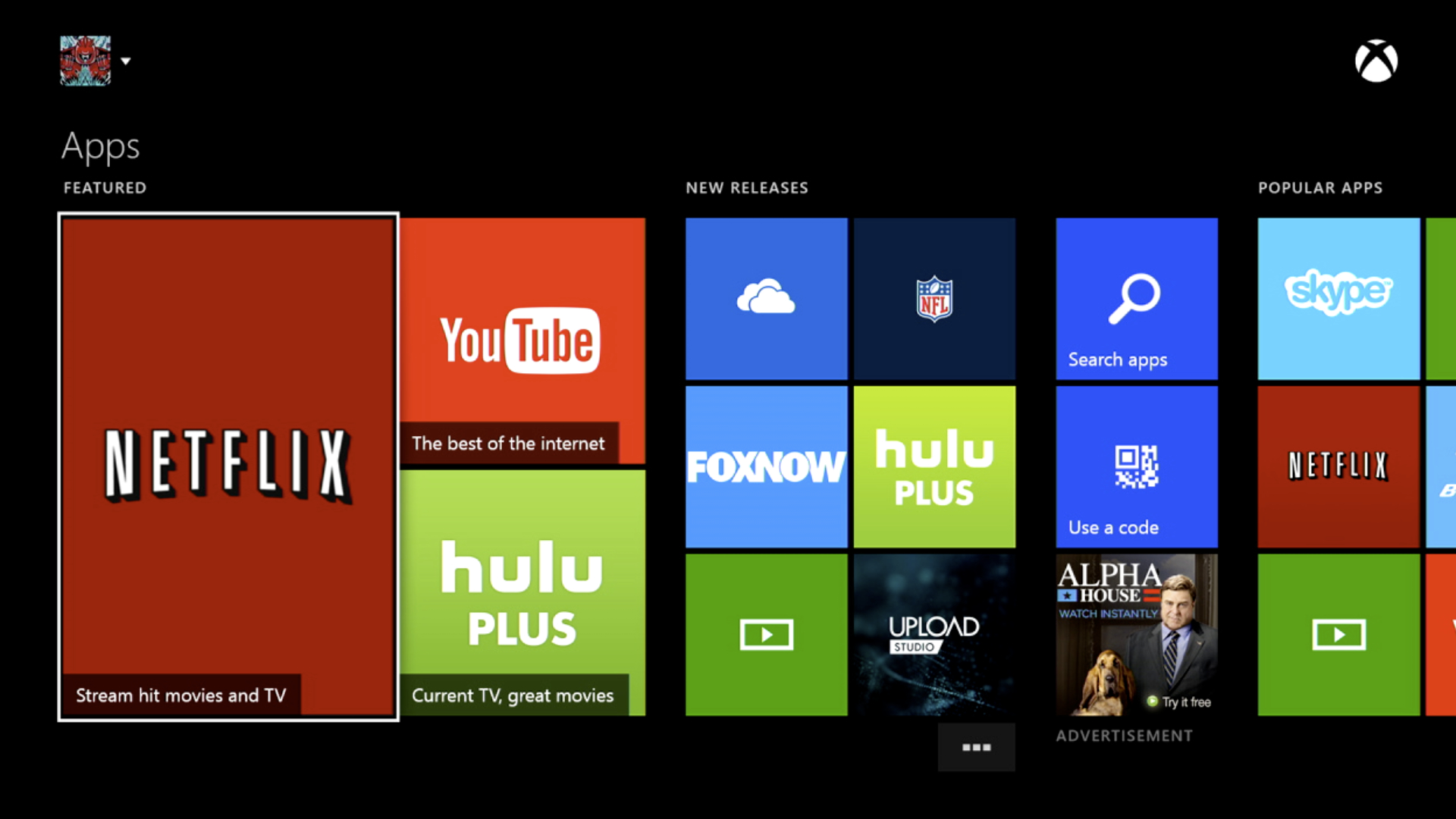 Xbox One vs PS4 apps
Very little to differentiate the two consoles in terms of apps.
The Xbox 360 and PS3 proved to be more than just gaming machines and Xbox One and PS4 are no different. Of course, most are shared across both platforms.
One key difference between the consoles as they currently stand is access to 4K streaming services. While you'll have to opt for the more expensive PS4 Pro if you want 4K streaming services on a Sony console, both the Xbox One S and X can do 4K streaming.
In terms of the apps themselves, all next-gen gamers have access to Netflix, Amazon Instant Video, Hulu Plus, Crackle, Vudu and Redbox Instant and baseball subscription service MLB.TV.
Xbox One corners the app-filled market with ESPN, Fox Now, FX Now, NFL, Ted, The CW, Twitch, Univision Deportes, Verizon FiOS TV and YouTube. It also has Microsoft's own soon-to-be-defunct Internet Explorer, OneDrive, Skype and Xbox Music and Xbox Video services.
That contrasts with PS4. Sony's console features Crunchyroll, Epix, NBA Game Time, NHL GameCenter Live, YuppTV, the WWE Network and the free music video playing app VidZone.
Initially, Xbox One had first access to HBO Go before PS4, but now both consoles have the premium channel as an app. At least, if your cable provider isn't Comcast. Neither system has HBO Now, which remains exclusive to Apple TV.
More niche apps are expected as time goes on, so this is hardly the final list of apps for Xbox One and PS4. Sony backers who are also HBO subscriptions can expect equal next-generation treatment for the the premium on-demand network "eventually," which just cements Xbox One's app-filled advantage.
Are PS4 and Xbox One backward compatible?
Xbox One backwards compatibility list is growing.
PS4 offers backwards compatibility through PS Now streaming service.
The Xbox One vs PS4 comparison got interesting at E3 2015. After teasing Xbox 360 emulation, Microsoft announced Xbox One backward compatibility for Xbox 360 games. This was expanded to original Xbox games at E3 2017.
"We won't charge you to play the games you already own," jabbed Microsoft at Sony during its E3 press conference. Over 100 disc and downloadable Xbox 360 titles will work on Xbox One this year, and the features of the newer console – like streaming and taking screenshots – crosses over to older games.
Microsoft launched Xbox One backward compatibility in November 2015 and a recent update saw its functionality expanded to include multi-disc games. Since then the manufacturer has continued to bring more and more games to the console.
Sony's PlayStation Now service, meanwhile, is a streaming service that costs money to rent games. That's a bummer if you already paid for The Last of Us, God of War: Ascension, Dead Space 3 and Metal Gear Solid: Ground Zeroes on the PS3.
It also relies on streaming, meaning that the quality of your gameplay experience will vary based on the speed of your internet connection.
Sony has expanded its video game streaming service to PS Vita, PC and PlayStation TV, and has even expanded it to include Sony and Samsung made TVs, and then include PlayStation and PS2 to the so far PS3-only lineup.
None of these options are foolproof yet. That means you'll need to keep your Xbox 360 and PS3 in order to play more niche games that haven't been made backwards compatible on Xbox One or haven't been added to PlayStation Now.
You can't sell the old systems, and that means people won't be able to readily buy them – they're more likely to purchase them directly from Microsoft and Sony.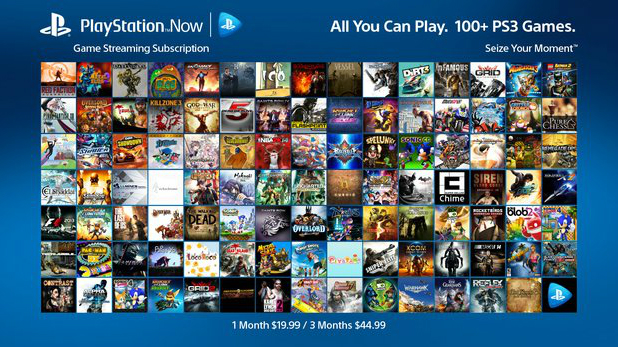 Other PS4 and Xbox One differences
Both consoles charge for online multiplayer.
Other media player features offered by Xbox One.
The look of the console, the feel of the controller and the appeal of the games list are the main differences from which consumers will decide on PS4 and Xbox One. However, there are other factors at play one should consider before buying into a new system. At the top of that list is a significant question: Where do most of your friends play?
Since there's no such thing as cross-platform multiplayer between the two consoles, you may be split up when playing Call of Duty on PS4 when all of your friends own it for Xbox One.
Both Microsoft and Sony are charging for multiplayer this console generation, whereas PS3 gamers got to log into matches Scott-Free.
Sony sadly moved closer to Microsoft in this way, while Microsoft moved closer to Sony by tearing down the Xbox Live app paywall. You no longer have to subscribe to stream Netflix and other apps.
The PS4 vs Xbox One comparison has evolved in the last three years, mostly because Microsoft's plans have shifted, from Xbox One price drops to more lenient paywall policies to graphics specs upgrades.
These two next-generation consoles are now on a more even video game playing field, which means Sony and Microsoft are going to start throwing Uncharted 4 to Halo 5 Guardians at you, and that's a win for all gamers.