With so many big, bold and high-performing TVs out there to choose from, picking the best model for your budget can be a real headache. That's why we've put together this shortlist of the very best TVs under £1,000 – so you can bring the warm glow of a television screen to your living room without breaking four-figure sums.
The good news is that your budget will net you everything you need from a modern television. Honestly, a good smart TV platform, 4K (3840 x 2160) resolution, and high dynamic range (HDR) color contrast should all be a given at that price.
Offering four times the pixel count of Full HD and the promise of more naturalistic images, any such UHD TV will represent a significant improvement over a rank and file Full HD model.
While smart TVs have been commonplace for some time, their feature set is also rapidly expanding, with voice control integration and a host of firmware updates able to improve your user experience over your home Wi-Fi.
But being smart about your purchase isn't just a case of waiting for sales and retail promotions. A little homework will pay dividends. If you're buying principally to watch sports, how good is a set's motion handling? As you move up and down the price scale, image processing is usually the first aspect of a screen to be compromised.
Similarly, not every mid- or lower-range screen offers the same level of HDR performance, and there could be huge discrepancies in audio performance. A slick narrow bezel design may look fashionably minimalist, but if TV's sound system sucks, maybe your cash is better spent elsewhere?
The good news is you don't have to wade through reams of tech specs to come to a conclusion – we've done the leg-work for you by finding the best TVs available for under £1,000. If you want the best budget TVs, you've come to the right place!
What is the best TV under £1,000?
Those of you sticking to a £1,000 budget probably weren't expecting an OLED TV in this list! But the LG OLED B7 is a welcome exception.
Due to the organic film used in OLED panels, they're able to offer incredible levels of contrast and deeper-than-deep blacks, but are still highly costly to manufacture. Most will run you into several thousand pounds, though LG's budget 2017 model is now just about scraping the £1,000 mark.
With a beautifully thin panel and LG's easy-to-use webOS smart platform, the OLED B7 is a great addition to any living room, and supporting both HDR10+ and Dolby Vision for truly dynamic 4K HDR images.
There are newer models about now, of course – the LG OLED B8 which came out last year, for one – though none that come close to such a competitive price. It may be a couple of years old now, but for top picture quality you won't do much better on this list.
Read our full review: LG OLED55B7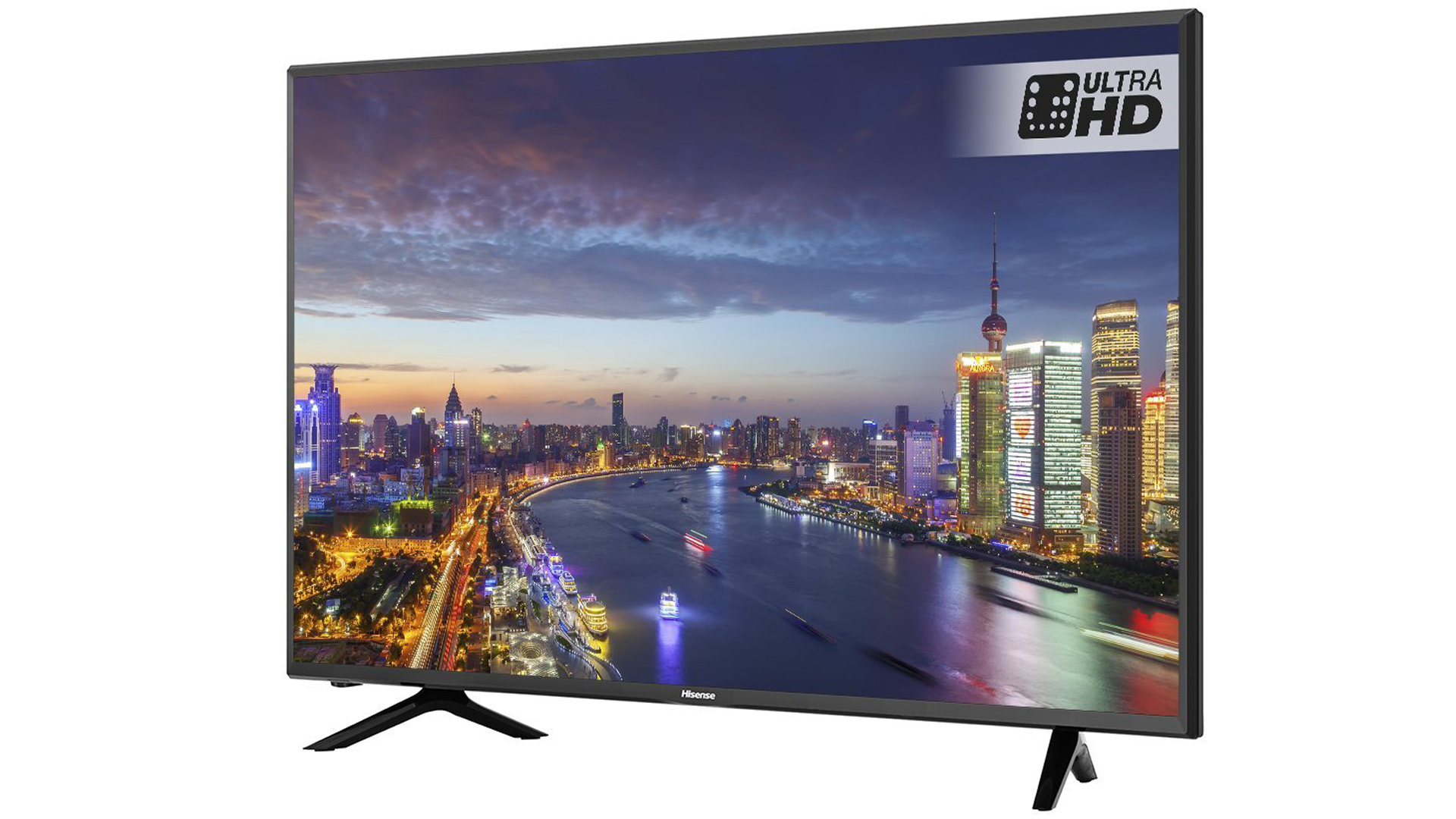 If you're window shopping for a whopping 4K HDR screen, then Hisense demands your attention with this impressive upper-budget barnstormer.
Image quality is surprisingly fine: The N6800, which is compatible with the basic HDR10 standard, is inherently bright enough to make peak white highlights zing, and there's plenty of fine detail and nuanced colour on screen. Likewise, usability is best-in-class thanks Freeview Play, with its roll-back programme guide and comprehensive Catch-Up TV selection.
Gamers have reason to be happy with this one, too: We measured input lag at 29.1ms, which should be fast enough to keep you on your toes.
There are caveats, though: It comes stocked with only four HDMI inputs, two support 4K at 60Hz. There's also three USBs, plus composite and component AV.
And, inevitably, the set's audio system is limited. Despite going loud, it sounds thin. You'll probably want to budget for a soundbar.
Read our full review: Hisense H55N6800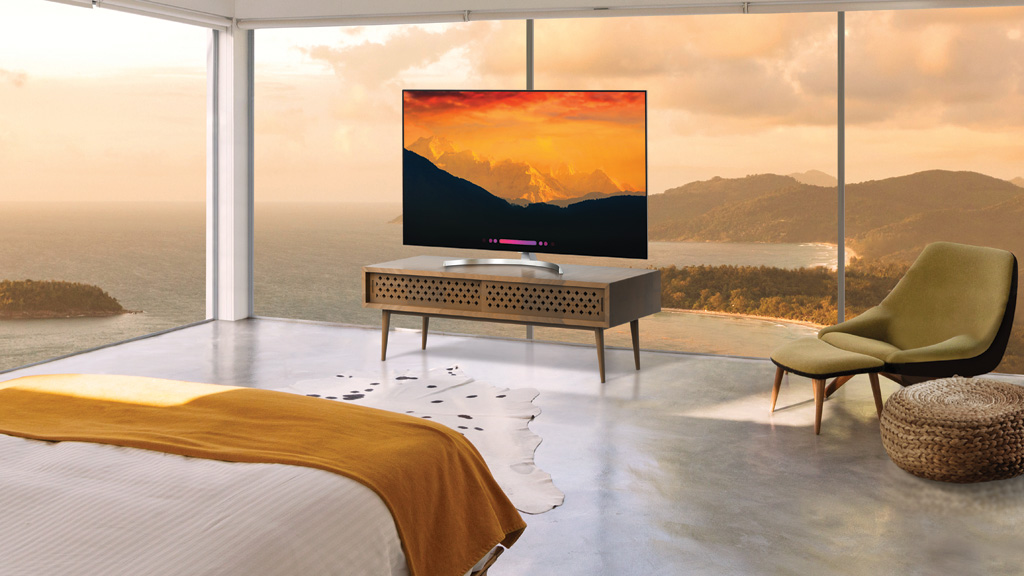 It's good to remember that LG do a lot more than just pricey OLED televisions. If the OLED B7 is still a bit too much for your budget, the LG SK85 Super UHD may be the television for you.
Sporting a regular LCD LED panel, the SK85 still manages impressive black levels and a smooth frame rate almost on a par with LG'd budget OLED models. Audio output is on the slight side, but that's a small complaint in what's still a terrific cost-effective alternative to LG's OLED range.
The 55-inch model comes in at only £799, having seen a notable discount after several months on the market.
The SK85 is also one of the smartest smart TVs we've ever tested. The ThinQ AI platform works tirelessly in the background to switch between appropriate picture modes depending on what you're watching, or respond to Google Assistant-enabled voice commands to navigate your favorite apps and streaming services.
Read our full review: LG SK85 Super UHD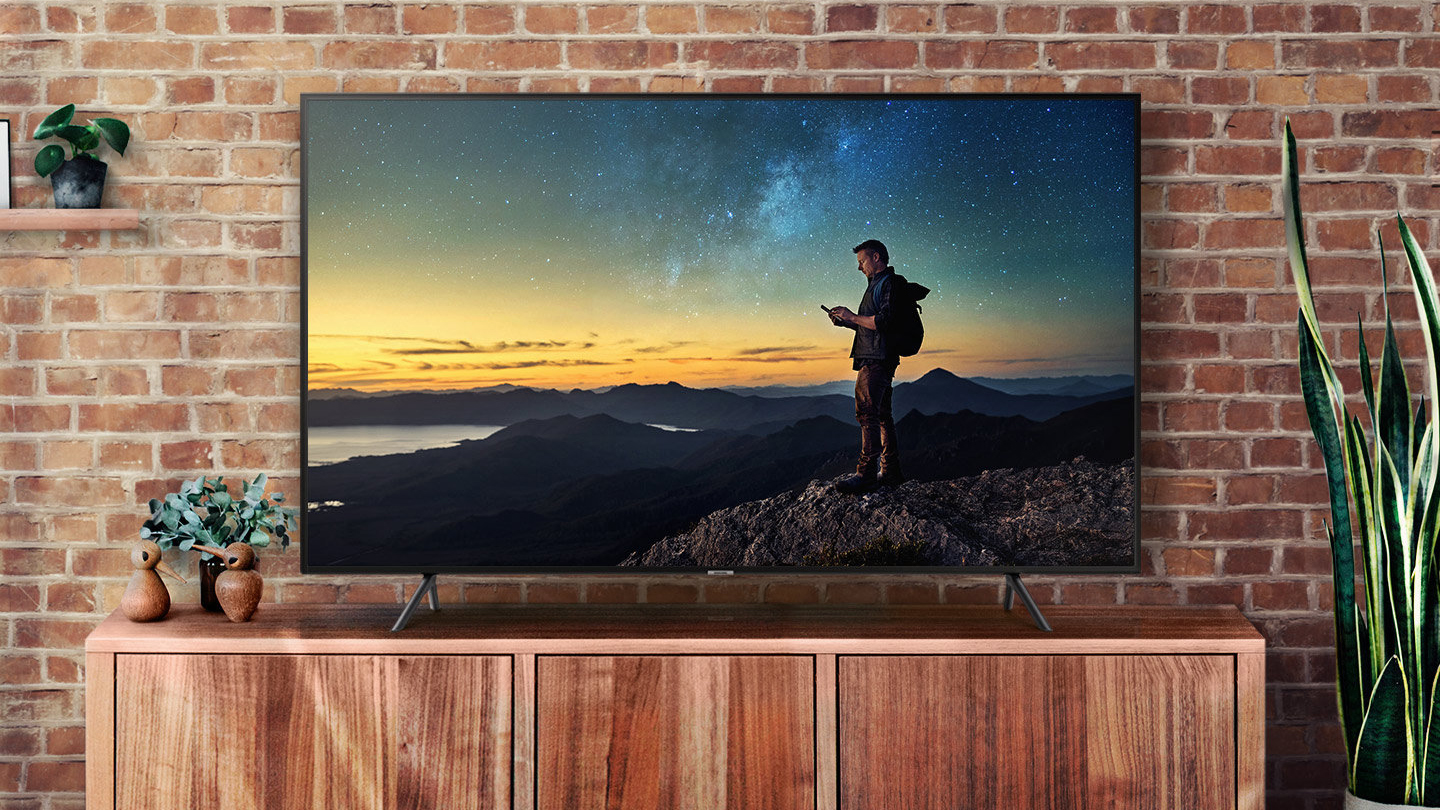 Why fork out for a high-end model when the Samsung NU7100 has everything you need?
The NU7100 offers 4K Ultra HD resolution and High Dynamic Range (HDR) on a budget. It sits at the bottom of Samsung's 4K UHD range, below the Samsung NU8000, carrying broadly the same specs as the Samsung NU7300, just without the curved screen.
You're not getting the premium specs of Samsung's higher-quality QLED (quantum dot) screens – but hey, this is a sub-£1,000 budget we're working with.
You can get a sizeable 65-inch panel for only £799, while the 49-inch model we reviewed was named one of our best TVs under £500. It's a real bargain for the price, with an incredibly smooth frame rate that brings both low input lag for both gamers and streamers.
The HDR capability could be more impressive, but you're still getting the beginnings of a wider color gamut and improved contrast – more than you'd get in standard SDR images.
The main cop-out is the omission of both Bixby, Samsung's voice assistant, and the UK catch-up service Freeview Play – but all that considered this is a pretty standout three-figure television.
Read our full review: Samsung NU7100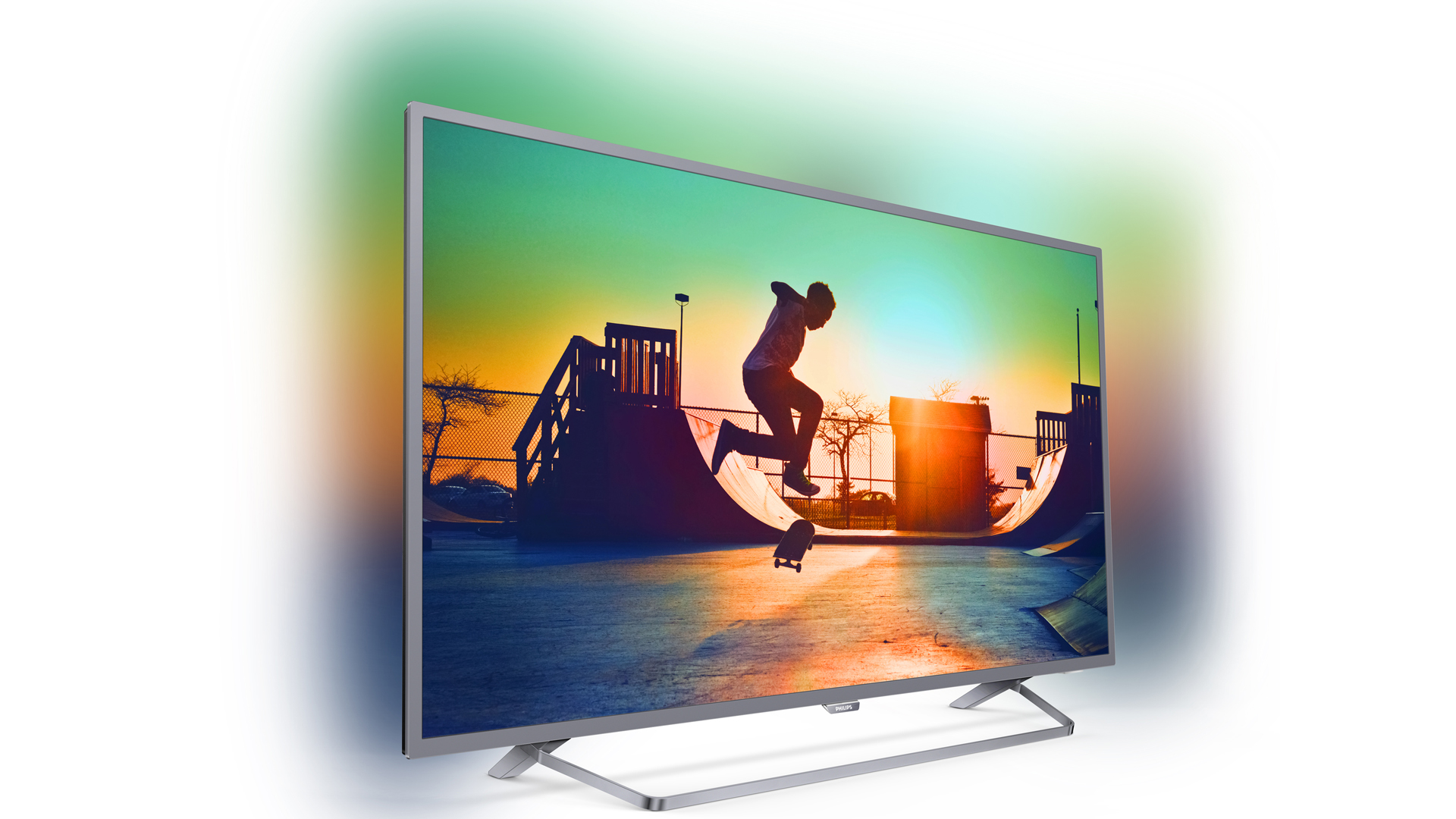 Philips' best selling 6-series range offers a compelling mix of picture quality and functionality. The provision of Ambilight is a huge point of difference between it and its many rivals. Ambilight, Philips' proprietary mood lighting can be used to mimic the colours on-screen, casting vivid hues back onto your living room wall, or used simply paint your wall space in solid shades. When integrated with a Hue smart lighting system, Ambilight becomes even more spectacular.
Image quality is reassuringly sharp too, courtesy of some elegant picture processing technology. While HDR compliant, its peak brightness is limited to around 350 nits. Consequently, we think it actually looks its best with SDR content, be it 4K Sky or BT TV, as well as HD sources. Audio quality can best be described as functional.
There are only three HDMI inputs, but all are HDCP 2.2 compatible. There's also component AV and twin USB ports. The tuner is Freeview Play, which means a full house of catch-up TV players, plus Netflix and YouView.
It's worth noting that Philips 6-series is also available in a 6262 iteration, but that cheaper line features two-sided Ambilight, rather than three, and comes with a slightly less fancy pedestal design. It pays to step-up.
Ultimately, though, this screen is greater than the sum of its parts.
Read more: Should you buy a Philips Ambilight TV?