Buying your first DSLR? Or looking for a fuss-free model as a gift for someone for Christmas? Our favorite DSLR for beginners right now is Nikon's D3500 and we've searched high and low to find you the best prices on this fabulous little DSLR.
In the UK, Amazon is currently selling the model with its AF-P DX 18-55mm f/3.5-5.6G VR kit lens for just £399. You can get it even cheaper if you opt for the non-VR kit lens, that package retailing at just £379, but the extra £20 for the VR kit is well, well worth it as it will give you sharper images when using slower shutter speeds and longer focal lengths.
If you in the US, the news is even better. You can currently grab the D3500 with both the AF-P DX 18-55mm f/3.5-5.6G VR and AF-P DX 70-300mm f/4.5-6.3G ED lenses for just $496.95 over at B&H. Taking the camera's APS-C sensor into account, that gives you an effective focal range of 27-450mm between the two lenses – perfect if you have some vacations planned, or if you find the 55mm end of the regular kit lens a little short.
Why choose the Nikon D3500
For the benefit of those not too familiar with the camera, the D3500 is Nikon's latest DSLR aimed at beginners, and it builds on the successes of its previous models like the D3400 and D3300. And, despite its entry-level billing, the body is refreshingly packed with many direct controls, with a chunky grip that allows for a fine hold and plenty of space on the back for the thumb to rest comfortably.
On the inside, the camera is loaded with a strong feature set that provides everything the novice photographer needs to take great shots and videos. The 24.2MP DX-format sensor is one of the latest to lose its optical low-pass filter, which means that images result with slightly better detail than would otherwise be the case. You can shoot both raw and JPEG images at up to a respectable 5fps, and there's also Full HD video recording that can be instigated at the press of a button.
Other notable features include a large 3.0-inch LCD with a 921k-dot resolution, and Bluetooth connectivity that allows for images to be sent straight over to your smartphone or tablet. There's also a pop-up flash that lets you throw an extra bit of light into the scene and the option to use an additional flashgun through the hotshoe, while the battery life stands at 1550 frames per charge – way ahead of any other DSLR at this level.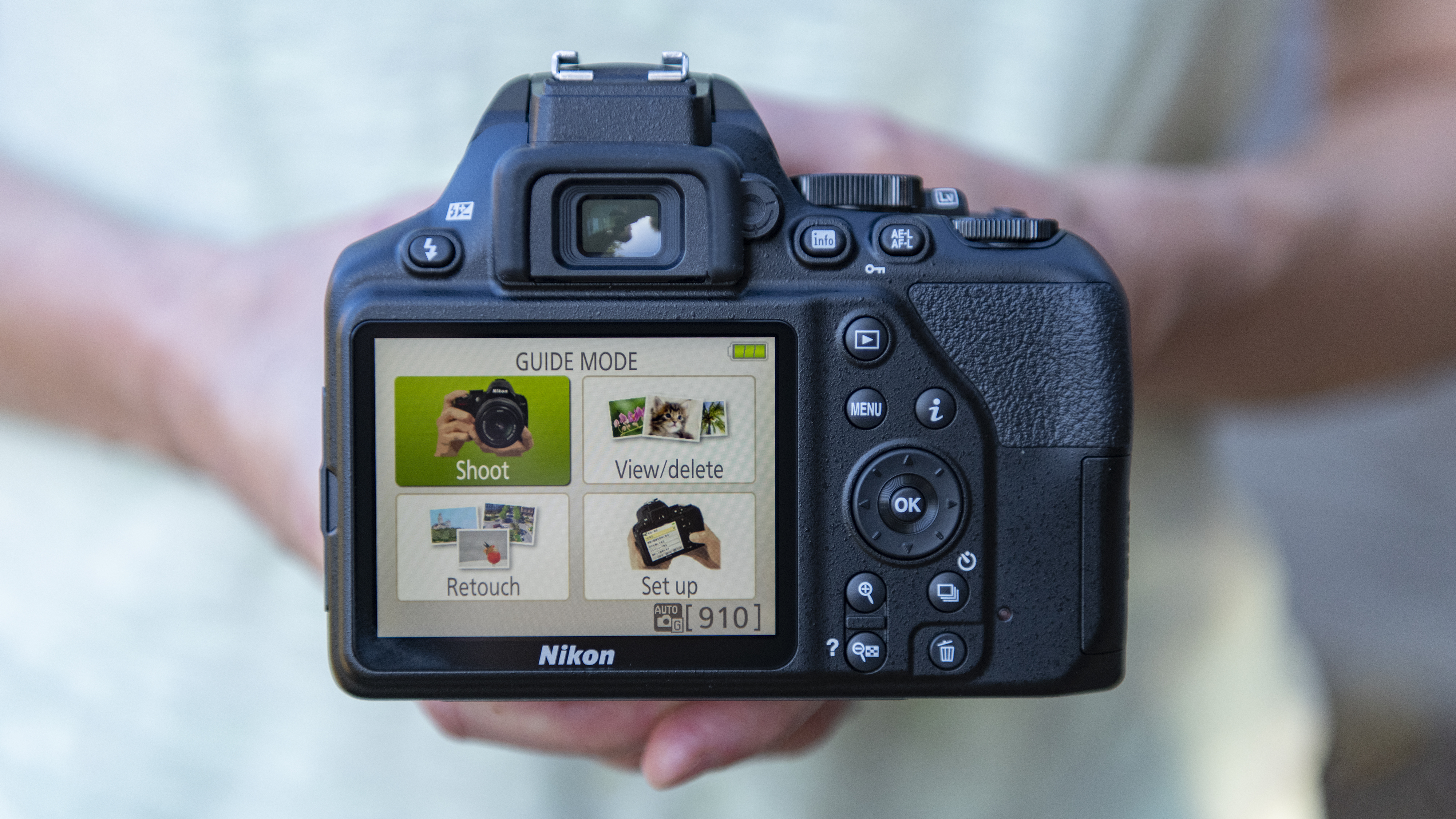 As we found in our review, image quality is excellent and the Guide mode makes it super simple to get acquainted with everything the camera offers. True, you won't be able to shoot 4K videos or control the screen by touch, but we wouldn't necessarily expect these on a camera of this level anyway.
Perhaps the best bit is that you can use hundreds of Nikon lenses and many more from third-party manufacturers such as Sigma and Tamron. Whether you want to go ultra-wide or home in on more distant subjects, or focus on the tiniest details right in front of you with a macro lens, you'll find a number of options that will let you do just that.