If you're looking to bag yourself a new phone this Christmas, giffgaff has some cracking deals.
Take the Huawei P Smart, serving up a healthy dose of Android, complete with support for your favourite apps like Instagram, Netflix, Snapchat and WhatsApp, all the while rocking dual-cameras. It packs some serious festive punch.
Want something a bit more camera-tastic? The P20 Pro uses computational photography and three cameras at the back to deliver over 70MP of camera power in total for photos that are nothing short of jaw-dropping.
Huawei P Smart
Kicking off with the incredible value P Smart, down from £149 to £119, it's about as good as you're going to get for less than £120.
It has a 5.65-inch Full HD+ display – that's higher resolution than your Full HD TV. And thanks to the ample size, it lets you do cool stuff like split-screen multitasking at the press of a button, so you can watch YouTube in the top part of your screen, while WhatsApping in the bottom.
Thanks to its 13MP + 2MP dual cameras, the clever P Smart can blur out the background of your shots, just like a DSLR, and it records Full HD video too.
Are you a camera enthusiast? Great! Manual photo modes give you maximum control and potential to eke out the best from its excellent snapper, and with loads of other modes like panorama, light painting, slow motion through to timelapse and more, it will keep you entertained for hours.
Selfie fan? Even better. The P Smart's 8MP selfie camera has beauty filters that can be dialled up or down at your command. Thanks to the Android OS under the hood, your selfies can tag team with apps like Instagram and Snapchat, so social butterflies who want to spread their wings can look their best.
3,000mAh of battery power will fuel the P Smart through from morning to night, and thanks to the blazingly fast 4G internet speeds it can reach, you can stay connected the whole while – and all for just £119.
Huawei P20 Pro
As for the P20 Pro, strap in – things are about to get serious.
Its standout feature – a triple-camera system co-engineered by Leica. Getting you closer to the action with up to a 3x optical zoom, it has advanced image stabilisation pioneered by Huawei, so your shots are shake-free and sharp. This also means that even in the dead of night, P20 Pro pictures are buzzing and alive with detail, and with its incredible 40MP shooting mode, you can pinch into every photo you take and keep pinching without quality breaking down.
Its 6.1-inch FullView AMOLED display is punchy and poppy, and even shows off HDR videos to perfection, not to mention photos captured on its incredible snapper.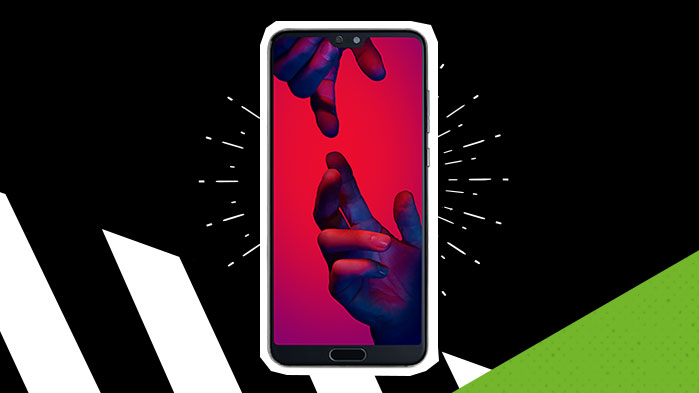 A rich, metal frame is matched with a tempered glass back to deliver an in-hand feel that rivals the best of the rest, and thanks to the Kirin 970 processor inside, it's powerful too. How powerful? Powerful enough to shoot stunning 4K video, blitz through rip roaring 3D games and multitask applications like a champion.
Worried about storage? No need. The P20 Pro gives you a hefty 128GB of it. That's double what most other flagships start at, and getting into specifics, is enough for roughly 250,000 photos or songs, and around 1,000 minutes of Full HD video.
But what good would all these capabilities be if the P20 Pro didn't make it through a full day? Exactly! That's why Huawei has packed in a huge 4,000 mAh battery into the P20 Pro's slender frame, so you can surf, shoot, play and post over 4G with confidence you'll make it until the sun sets and comes back up all over again.
Down from £649 to £579, giffgaff is giving you a hefty £70 off this masterpiece over the festive season – an incredible price for an incredible phone.
For more on the Huawei P Smart, P20 Pro and other smartphones available through giffgaff over Christmas and year-round, there's only one place to go – giffgaff.com